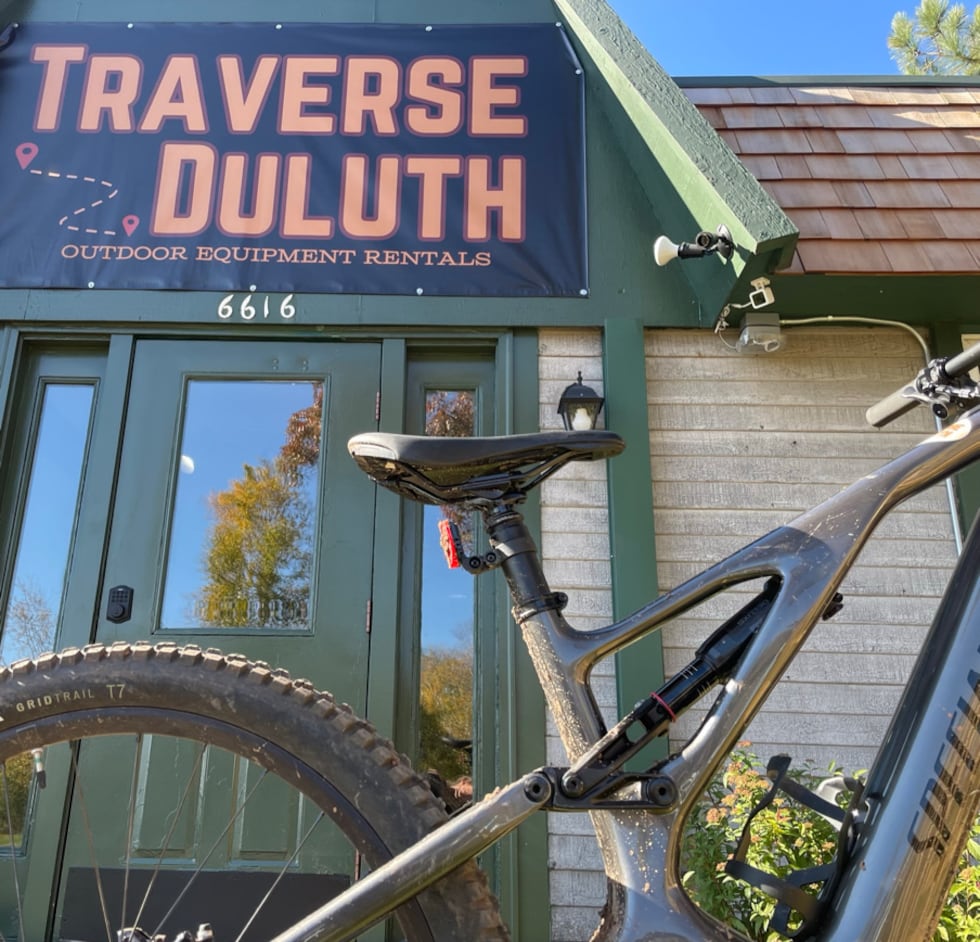 Sponsored - The following content is created on behalf of Traverse Duluth & Growing Duluth and does not reflect the opinions of Gray Media or its editorial staff. To learn more about Traverse Duluth & Growing Duluth visit traverseduluth.com & growingduluth.com
Being a small business means being a part of a community. West Duluth has welcomed two new businesses into their community, and they are quickly becoming hidden gems. Traverse Duluth and Growing Duluth share a building located at 6616 Cody St. They have reimagined a space that was once known as Sam's Florist to provide services and products in the Duluth area that cater to both lovers of plants and outdoor enthusiast.
Nestled on the convergence of the Superior Hiking Trail, a snowmobile route and the Duluth Traverse mountain bike trail, Traverse Duluth provides something for all seasons with snowshoe, mountain bike and e-bike rentals. It is a must stop to refresh with snacks and trail-side necessities for those utilizing the amazing trail systems Duluth has to offer. In honor of small business Saturday, Traverse Duluth will mark full-day rentals to the price of a half-day rental. Go to their website, traverseduluth.com, to reserve at this special rate on Saturday and give the gift of adventure this holiday season. Gift certificates are available in store.
Located in the same building, Growing Duluth, fits a community need for a year-round greenhouse focusing on indoor growing. This unique store is your place for quality products and plants. Have a Secret Santa at work that is impossible to buy for? Choose from a large variety of indoor plants of all sizes and care levels. Among those plants, you will find Norfolk pines which make a great alternative to a traditional Christmas tree. Why buy a tree that will need to be disposed of in a few weeks when a sustainable option is available. Norfolk pines live for many years to come and purify the air in your house. Growing Duluth also has rare plant varieties and will be featuring the Monstera Albo Variegata on small business Saturday. This sought after plant will be on sale during Growing Duluth's small business Saturday Dot Sale event where certain plants and products will be marked with a one day only discounts.
The Dot Sale event also extends to select growing products. AC Infinity 4 x 4 tent kit systems will be $100 off. Grow your outside plants indoors this winter with an AC Infinity grow tent system by creating the perfect growing conditions. Going out of town for the holidays and worried about the care of your plants? This system allows you to monitor and adjust your growing conditions from afar. Self-watering pots and bases are also available. Get everything you need to assist you from seed to harvest at Growing Duluth.
Need an easy, impressive meal or appetizer idea for holiday potlucks or to get on the in-laws good side? Growing Duluth has microgreens, fresh herbs and greenhouse grown carrots and heirloom tomatoes which are great additions to upscale any salad in flavor and presentation. If you need a quick appetizer, grab some microgreens, spread cream cheese on a cracker and top with the microgreens and a favorite seasoning such as everything-but-the-bagel.
Support small businesses this coming Saturday and make sure to include Growing Duluth and Traverse Duluth as a must stop shop.