Multi-Media Journalist/Producer
WMTV-TV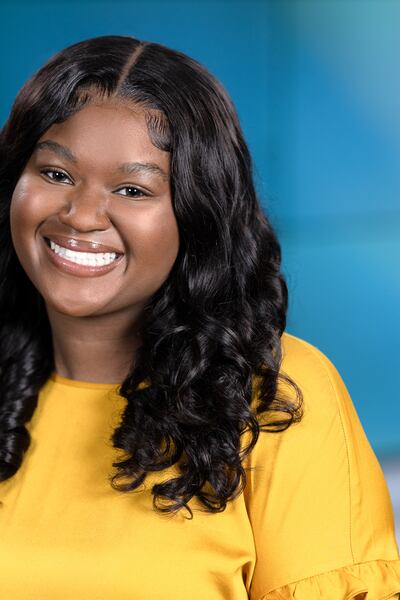 The news was a staple in the Kelley household growing up. Whether it was to learn about what was happening in the community, check the weather or to hear a heartfelt story--it played every day. Camberyn told her mom that one day she would be on the news and telling the stories of others.
In May, Camberyn graduated from Illinois State University with a degree in Journalism and Spanish. She was involved in many things on campus including being the first Black news director at her college radio station WZND Fuzed Radio (which is recognized by Broadcast Educators Association as signature college station in the national three years in the row). Alongside that Camberyn served as a reporter at NPR station WGLT, the Vidette and worked on her television broadcast skills at TV-10 News. At TV-10 Camberyn was a reporter, host, anchor and producer. Every now and then she dipped her toes into sports and performed color commentary for basketball, volleyball and softball.
When she was not doing student media--Camberyn was a resident assistant for her university's dorms. She served on the International floor and helped students adjust to life in Illinois and on campus. Camberyn found herself covering many social justice topics and things relating to students after hearing the struggles and needs of her residents.
With her Spanish background, Camberyn hopes to produce or write some stories in Spanish. She sees the dire need for news and its importance to all people. She wants to be a part of giving accessibility to communities that do not speak English. There is a language barrier, but she wants to be able to provide resources, stories and anything that the community may need.
Camberyn started her journey at WMTV 15 News as a reporter (MMJ)/producer July 2022.
When Camberyn isn't working she loves shopping, hammocking and spending time with friends and family. Camberyn collects crocs and has a German Shepherd named Rocket that she adores. After college Camberyn has continued her duty to her beloved sorority Alpha Kappa Alpha Sorority, Incorporated where she does community work and service.
Originally from the Chicago suburbs of Illinois, Camberyn is thrilled to tell the stories of the people in Madison and to be familiar face and storyteller to all. She wants to tell stories with your help. If there is a story you want covered or want more people to know about, connect with Camberyn through email (Camberyn.Kelley@NBC15.com), Twitter (@CamberynKelley) or Facebook (@CamberynKelleyTV).