Sunny Sunday will become cloudy Monday as warm spell fades away
Published: Nov. 18, 2023 at 4:16 PM CST
|
Updated: Nov. 19, 2023 at 9:49 AM CST
WEATHER STORY: High air pressure will push down clouds Saturday night and Sunday. Temperatures will be warmer than normal, too. The norm is around 37. Sunday should hit 42. The 40′s will last through parts of Tuesday. Tuesday will get a low that will kick up the clouds and drop a slight chance for rain. By Wednesday, the temperatures will drop as well. They'll go back to normal and even cooler than normal for Thanksgiving.
SUNDAY: The sky will be mostly sunny thanks to the higher air pressure readings. The afternoon high pressure will strive towards a top temp of 42 or so. The wind will be E 5-15 mph.
MONDAY: As a low approaches, cloud cover will become overcast. The morning low will be 30. The high will be 40. The wind will be SE 5-10 mph.
TUESDAY: The low will be overhead so there will be a 40% chance for rain. It will be rain rather than snow because the range of high temps will be 37-40. That'll happen after a morning low of 29.
COMING UP THIS WEEK: Cooler air behind the low will send temperatures into the 20′s and 30′s for highs. The lows will be in the teens and 20′s. Thanksgiving will be sunny but chilly.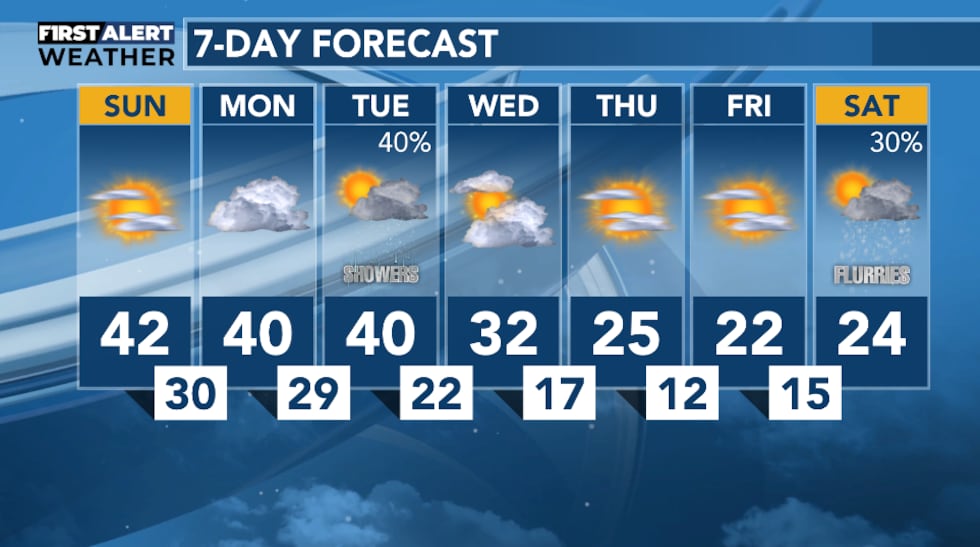 Click here to download the Northern News Now app or our Northern News Now First Alert weather app.
Copyright 2023 Northern News Now. All rights reserved.