Best places to watch the 65th Christmas City of the North Parade
Published: Nov. 17, 2023 at 10:14 AM CST
DULUTH, MN. (Northern News Now) - Tonight, a Northland tradition continues with the 65th annual Christmas City of the North Parade.
The parade starts at 6:30 p.m. along Superior Street. The route starts at North 10th Ave. E and spans to 5th Ave. W.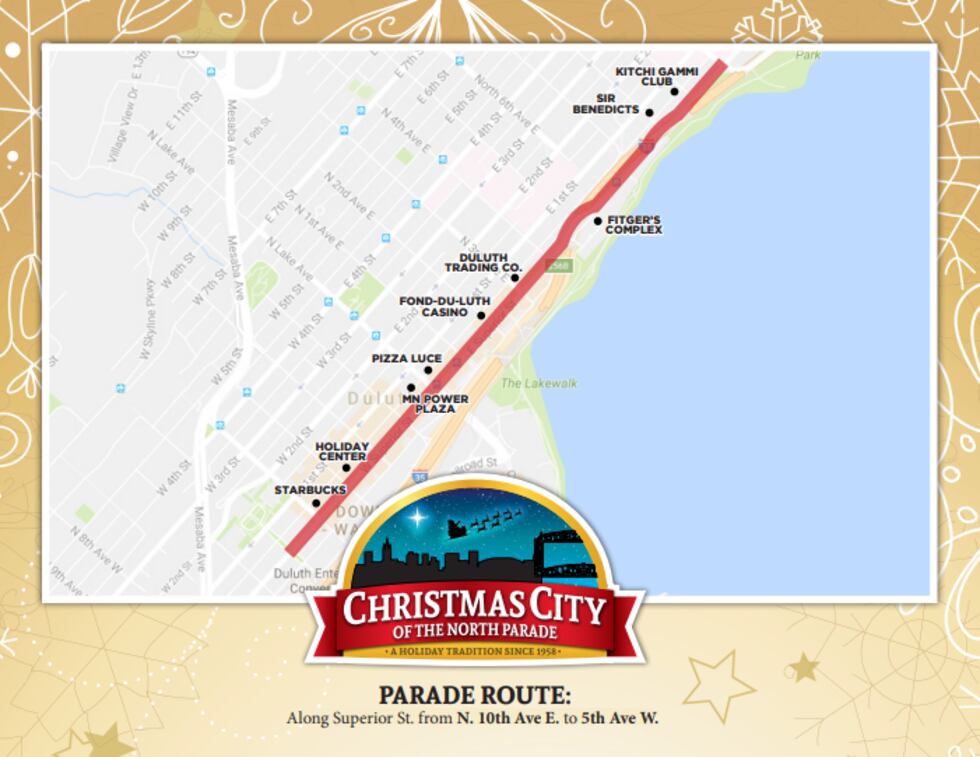 Live on Northern News Now
You can watch all the action from the comfort of your own home. The parade will be broadcast on NBC starting at 6:30 p.m. and hosted by Briggs LeSavage, Laura Lee, and Dan Wolfe. It will also be streamed on NorthernNewsNow.com/livestream/.
Duluth
1. Zeitgeist Duluth
Watch the parade inside on the big screen with free popcorn. Cookies, hot chocolate, coffee, and cider for sale.
2. Sir Benedicts Tavern on the Lake
A Kid's buffet will be outside with all sales going to the local Toyland Express. There will also be fire pits and heaters available with s'mores, hot chocolate, and an outdoor bar for ages 21+.
3. Duluth's Best Bread
Coffee, hot chocolate, and lots of treats from 5:30 p.m. to 8:30 p.m.
4. Kitchi Gammi Club
Member-only watch party.
5. Fitger's
Warm up inside and get free hot chocolate and cookies. The ramp will have free parking after 5 p.m.
6. Lake Superior Plaza
The Light Up the Plaza tree lighting celebration will take place tonight at 5 p.m. Northern News Now's Hunter McCullough will be live counting down the lighting. The event will also be shown on Northern News Now at 5 p.m. After the lighting, people are welcome to stick around and watch the parade with the newly lit plaza in the background.
7. Blue Rock Grill
Stop by before during or after the parade to warm up with hot chocolate and apple cider to go. Hot Toddys and Tom & Jerry's are available if you choose to stay. The Blue Rock Grill will be open until 10 p.m.
8. Sheraton Duluth Hotel
Gather in the lobby for Christmas cookies and hot chocolate to watch the parade pass by on Superior Street. Parking is located on 1st Street and 3rd Avenue East.
Outside of Duluth
1. Mama T's Smokin' Eats (Superior)
Watch the parade inside on all nine TVs with specialty drinks, hot chocolate, and a free cookie with every meal. There will also be a kids' coloring contest for a $25 gift card. Kids can also write their letters to Santa and bring it back to Santa when he visits on December 18.
Click here to download the Northern News Now app or our Northern News Now First Alert weather app.
Copyright 2023 Northern News Now. All rights reserved.