Lillard scores 37, Bucks overcome Antetokounmpo's absence to beat Raptors 128-112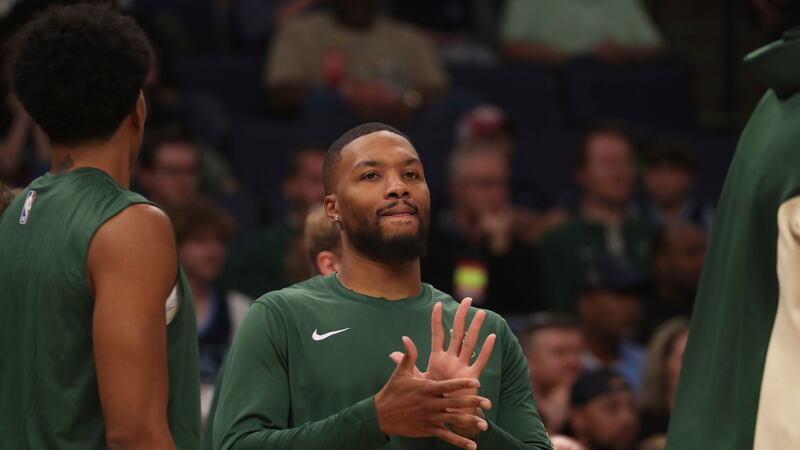 Published: Nov. 15, 2023 at 9:18 PM CST
TORONTO (AP) — Damian Lillard had 37 points and a season-high 13 assists, Malik Beasley scored a season-high 30 points and the Milwaukee Bucks overcame Giannis Antetokounmpo's absence to beat the Toronto Raptors 128-112 on Wednesday night.
Antetokounmpo missed his first game of the season after playing the first 10, sitting out because of a strained right calf. He played 35 minutes in Monday's win over Chicago, finishing with 35 points and 11 rebounds. The 7-footer is averaging 29.5 points, 9.6 rebounds and 3.6 assists.
Bobby Portis scored 18 points for Milwaukee and Cameron Payne had 13.
Lillard shot 9 for 18 and made 15 of 16 at the free-throw line.
The Bucks finished 20 for 39 from long range, matching a season-high for made 3-pointers. Beasley shot 8 for 11 from deep while Lillard made 4 of 10.
Milwaukee avenged a loss at Toronto and won for the second time since Lillard returned after missing two games because of a sore right calf.
Bucks guard MarJon Beauchamp scored four points in 10 minutes before leaving because of a sprained right ankle.
Scottie Barnes scored 29 points for the Raptors. Jakob Poeltl had 13 points and 11 rebounds.
Toronto fell behind by 20-plus points for the second straight game. Toronto rallied from a 71-48 deficit to beat Washington 111-107 on Monday, but didn't have enough to recover against the Bucks.
Beasley connected from long range to put Milwaukee up 93-60 with 5:05 left in the third quarter, Toronto's biggest deficit of the season.
Raptors forward O.G. Anunoby missed his second straight game because of a cut finger on his right hand while guard Gary Trent Jr. (plantar fasciitis, right foot) sat for a third straight.
With Anunoby out, rookie Gradey Dick made his first start for Toronto. Dick, who turns 20 on November 20, became the third teenager to start a game for the Raptors. Tracy McGrady and Chris Bosh were the others.
Toronto led 8-2 early but the Bucks replied with a 17-0 run and never trailed again. Milwaukee led 36-21 after one quarter and 70-47 at the half.
UP NEXT
Bucks: Milwaukee visits the Charlotte Hornets on Friday in an In-Season Tournament game.
Raptors: Toronto begins tournament play by hosting the Boston Celtics on Friday.
Copyright 2023 The Associated Press. All rights reserved.