Duluth Police Department looks to community for shared priorities from audit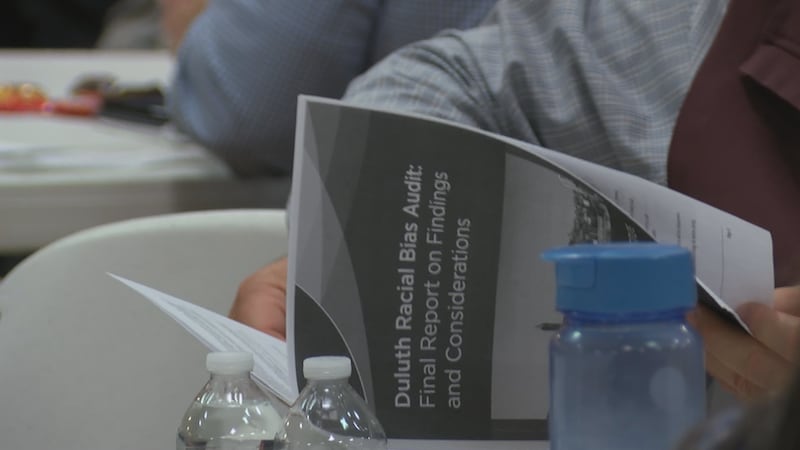 Published: Nov. 14, 2023 at 9:47 PM CST
DULUTH, MN. (Northern News Now) -- The Duluth community was invited to sit down and chat with members of the Duluth Police Department after a recent Racial Bias Audit found some things within the department that need fixing.
"The findings that were most relevant, I think to the community are related to stops, traffic stops and pedestrian stops," said Katie Zafft, a manager with the Crime and Justice Institute.
The Racial Bias Audit was conducted after community members in Duluth expressed concerns of racial disparities in the police department.
When the audit findings were released two months ago, a large concern that was raised related to how black males were the most likely demographic to be pulled over in the city.
Now, the DPD is looking to make changes with some help from the community. The department welcomed residents to meet in the AICHO building Tuesday to share what solutions they want prioritized inside the department.
"Wanting to talk more about what public safety means to the community and to the department staff and officers," said Zafft.
A large part of the meeting included small groups to discuss what issues stood out to them in the audit.
"I would say overall, just the lack of trust that the BIPOC community has in the police department," said Blair Powless, a member of the Racial Bias Audit Team.
The meeting also included large group discussions on how to implement changes, including the Stop Policy, which proposes police officers should only make stops when it interferes with public safety.
"The Stop Policy that the NAACP has developed is excellent, in my opinion, and I'm really glad for the work that they've done," said Powless.
Powless says this meeting is one of the first big steps the DPD is making in responding to the Racial Bias Audit.
Those with the Crime and Justice Institute, who led the meeting, will gather the findings from it and share them with the DPD.
Click here to download the Northern News Now app or our Northern News Now First Alert weather app.
Copyright 2023 Northern News Now. All rights reserved.