Two Duluth Denfeld Soccer players sign Letters of Intent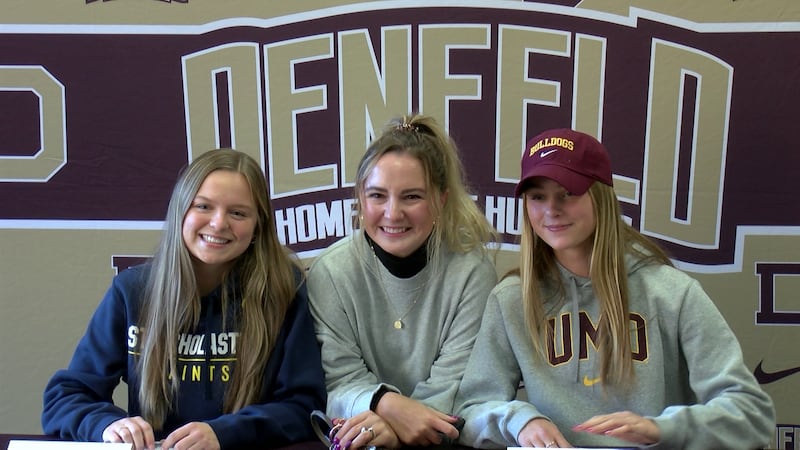 Published: Nov. 13, 2023 at 8:39 PM CST
DULUTH, MN. (Northern News Now) - Over at Duluth Denfeld High School, two Hunters committed to staying in the Northland to continue playing soccer while furthering their education.
Seniors Alyssa Doyle and Camryn Seguin helped Denfeld secure a record of 9-6-3 in their final seasons at Denfeld.
During her final season, Doyle broke the school's record for goals and points in a high school career.
Doyle signed her letter of intent with the University of Minnesota Duluth and will become a Bulldog next fall.
"I have always been close with UMD, I know some of their coaches and have attended some of their camps for years, really, at the end of the day, this was my best option and I'm just so excited to play there next season," said Doyle.
Doyle and Seguin earned Lake Superior All-Conference honors this season.
Seguin signed her letter of intent with the College of Saint Scholastics and will become a Saint next fall.
"I'm excited for the opportunity and what's to come for the next couple of years on a new team. I really like the college; all the girls and coaches are super nice," said Seguin.
The two teammates will now be on former teams but being close is something they look forward to.
"I think it's going to be a lot of fun because I think we (UMD & CSS) do a little scrimmage before the season so it'll be fun to play against her again but I like the idea that we're still really close," said Seguin about being close to her teammate.
Their high school head coach Leah Hamm was at the signing and mentioned she's not ready to say goodbye just yet.
"We definitely have big shoes to fill. They're just so fun. They're lighthearted, and just so much fun to be around. I'm lucky because I get to keep working with them at school for the rest of this year so it kind of eases the goodbye a little," said Hamm.
Click here to download the Northern News Now app or our Northern News Now First Alert weather app.
Copyright 2023 Northern News Now. All rights reserved.