Robertson and Johnston each score twice as Stars beat Wild 8-3
Brandon Duhaime, Vinni Lettieri and Mats Zuccarello scored for the Wild, who have lost three straight.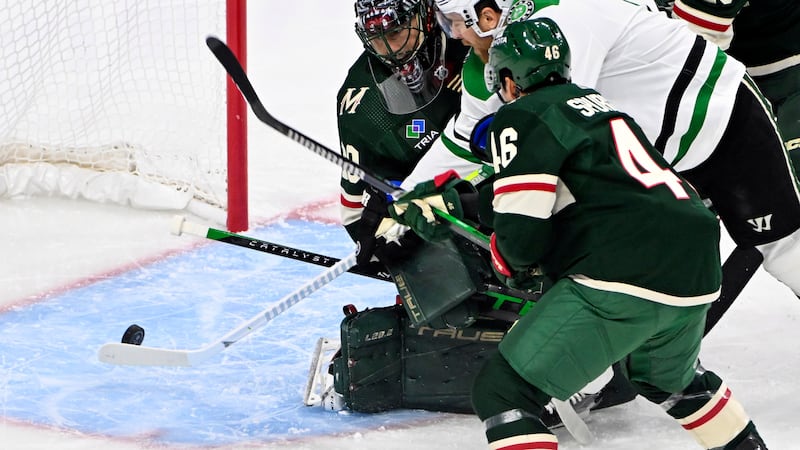 Published: Nov. 12, 2023 at 9:11 PM CST
ST. PAUL, Minn. (AP) — Jason Robertson and Wyatt Johnston each had two goals and an assist as the Dallas Stars beat the Minnesota Wild 8-3 on Sunday.
Matt Duchene had a goal and an assist, and Joe Pavelski, Radek Faksa and Evgenii Dadonov also scored for the Stars, who completed a perfect three-game road trip. Miro Heiskanan had three assists, Jamie Benn and Tyler Seguin each had two, and Jake Oettinger stopped 24 shots.
Brandon Duhaime, Vinni Lettieri and Mats Zuccarello scored for the Wild, who have lost three straight. Marc-Andre Fleury made 29 saves.
The Stars scored five power-play goals on six chances to tie a franchise record, and also had two short-handed goals. The Wild set a new record for the most power-play goals allowed.
It was the first meeting between the teams since Dallas beat Minnesota in six games in the first round of the playoffs last spring.
The Stars entered the game with one of the worst power plays in the league, converting at just a 10.8 percent clip. But the Wild have the worst penalty-kill unit in the NHL, and the Stars took advantage.
"If they're going to chase hits and do that, then we're going to have to make them pay on the power play and we did that again," Stars coach Peter DeBoer said. "Maybe this is what we needed, a team that took a bunch of stupid penalties so we could work on it."
It didn't take long for Dallas to take charge. Minnesota's Duhaime was sent off for interference just 50 seconds into the game. Seven seconds into the power play, Pavelski knocked in the rebound of Heiskanen's shot from the point.
"We showed up and executed right from the first shift of the game," DeBoer said. "We were ready to play, knew the importance of the game and got the job done."
The Stars scored on the Wild's first power play, too. Faksa jumped on a Minnesota turnover deep in its own zone and fired it past Fleury for an unassisted goal and a 2-0 lead.
"A penalty-kill goal and a power-play goal against — it's just ugly," Wild forward Marcus Foligno said. "It's just a negative way to start a game. We did battle back, but we keep coughing it up."
The Wild committed another minor penalty in the opening minute of the second period, and once again the Stars converted on the power play when Johnston one-timed Duchene's pass from behind the net for a 4-2 lead.
"We shoot ourselves in the foot being in the box that many times," Wild captain Jared Spurgeon said. "But when you're in the box, you still have to kill a penalty, whether it's blocking a shot or just making a play to get the puck out."
The Stars blew it open after Duhaime was given a game misconduct for boarding Thomas Harley late in the second period. Richardson scored both of his goals on the ensuing five-minute power play early in the third period, putting Dallas on top 7-3.
Johnston capped the scoring with a short-handed goal with just over two minutes to play.
Dallas, which starts a five-game homestand this week, improved its road record to 7-1-1 this year.
"It's what every team talks about in training camp," Seguin said. "You want to have a good start. You want to have a good road record and be good on special teams. We're going to go home and take care of business there now."
The game was the Wild's last before a trip to Sweden, where they'll play the Senators and Maple Leafs.
UP NEXT
Stars: Host Arizona on Tuesday night.
Wild: Face Ottawa on Saturday in Stockholm, Sweden.
Copyright 2023 The Associated Press. All rights reserved.