Clay Matthews, Aaron Kampman named to Packers Hall of Fame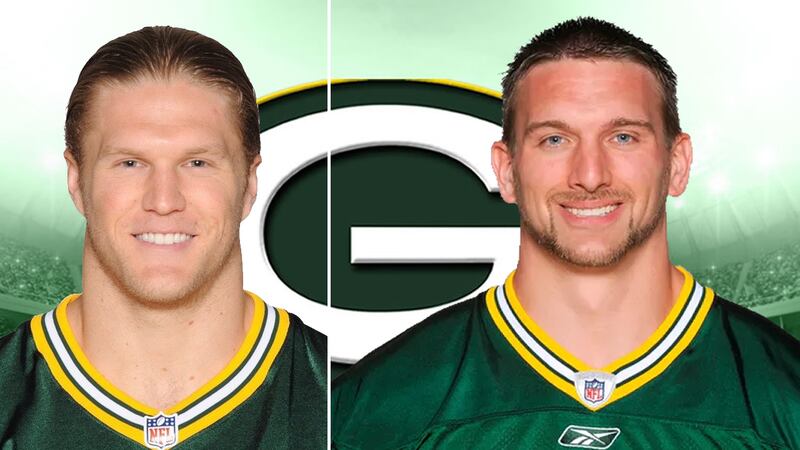 Published: Nov. 13, 2023 at 9:01 AM CST
|
Updated: Nov. 13, 2023 at 9:18 AM CST
GREEN BAY, Wis. (WBAY) - Former linebacker Clay Matthews and former defensive end Aaron Kampman are being inducted into the Green Bay Packers Hall of Fame.
The Hall of Fame made the announcement Monday morning. They'll be formally enshrined at the 53rd Hall of Fame Induction Banquet on Thursday, August 29.
Matthews was a first-round pick for the Packers in the 2009 NFL Draft. He played for the Packers for 10 seasons, 2009-2018, and started 137 of the 143 games he played in. He left the NFL after playing for the Los Angeles Rams for one season in 2019.
According to the team, Packers Hall of Fame, he holds the team records for most sacks in a rookie season, with 10, and most career sacks since 1982, with 83.5. His six Pro Bowl selections as a Packer have him tied with Pro Football Hall of Famer Reggie White for second-most in the franchise for a defensive player. He also holds the team record for most sacks in post-season games since 1982, with 11 sacks, and ranks him #6 in NFL playoff history, too.
Kampman also started his career with the Packers and played for eight seasons in Green Bay. He was a 5th-round pick in the 2002 NFL Draft and made 104 starts in 112 games.
In 2006, his breakout year, he made 15.5 sacks, ranking him #2 in the NFL that season and #3 in Packers history. He also made 113 tackles that year, a record for a Packers defensive lineman. His 37 sacks from 2006 to 2008 ranked him #3 in the NFL at that time, and he was a Pro Bowl selection in 2006 and 2007.
Kampman played two more seasons with the Jacksonville Jaguars before finishing his NFL career.
The Hall of Fame Induction Banquet will be held in the Lambeau Field Atrium starting with a cash bar at 4 p.m. and the dinner and program at 5:30. Details for getting tickets will be released soon, the Hall of Fame said.
Copyright 2023 WBAY. All rights reserved.