No. 24 UMD Football wins in final regular season game over Minnesota State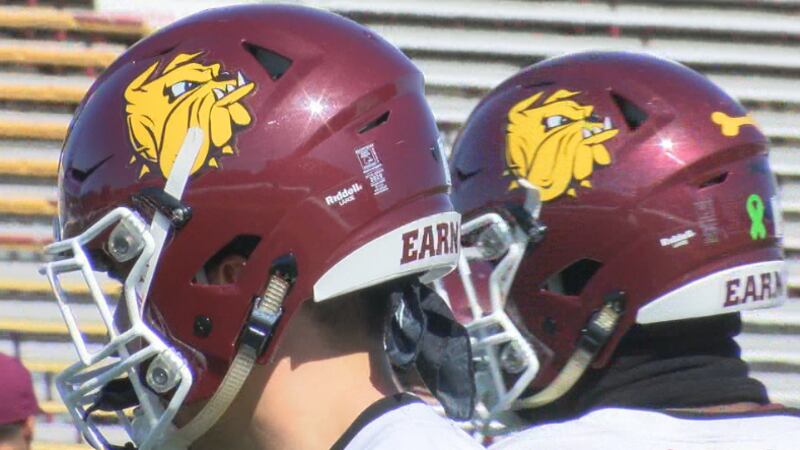 Published: Nov. 11, 2023 at 3:53 PM CST
MANKATO, MN. (Northern News Now) - After defeating Concordia St. Paul last week the University of Minnesota Duluth football team was on the road to face the Minnesota State University, Mankato Mavericks.
The 24th-ranked Bulldogs came in as the underdogs versus the one-loss and ninth-ranked Mavericks.
Defense would win in the first quarter as both teams were held scoreless until an MSU scored the first touchdown with eight minutes remaining in the second quarter.
UMD wouldn't take long as sophomore Kyle Walljasper threw a 44-yard touchdown pass to fellow sophomore DeShaun Ames to tie it up at 7-7.
It took MSU five minutes to respond with their first passing touchdown of the game.
With the help of a 24-yard rush from graduate senior Chamere Thomas, the Bulldogs would punch in a one-yard rushing touchdown from Walljasper.
With one second remaining the Bulldogs forced a turnover on downs that would set up senior Curtis Cox for a 39-yard field that put UMD up 17-14 going into the half.
Graduate senior Tim Pokornowski returned MSU's opening drive punt 50 yards to set up UMD on their opponents' 10-yard line for their first drive of the second half.
The drive would end with Ames scoring his second touchdown of the day on an eight-yard rush.
It would be quiet the rest of the third until a 45-yard field goal by Cox went through the uprights to give UMD a big 27-14 lead.
With under seven minutes left in the game, MSU rushed up the middle for a 19-yard touchdown.
On the following drive, UMD would score the game's final point on a 62-yard touchdown pass to junior Jimmy Durocher, making it a 33-21 victory.
Click here to download the Northern News Now app or our Northern News Now First Alert weather app.
Copyright 2023 Northern News Now. All rights reserved.