No. 8 UMD women's hockey extends win streak to five after 3-1 win over St. Thomas
Sophomore goalie Hailey MacLeod is now 4-0 on the season.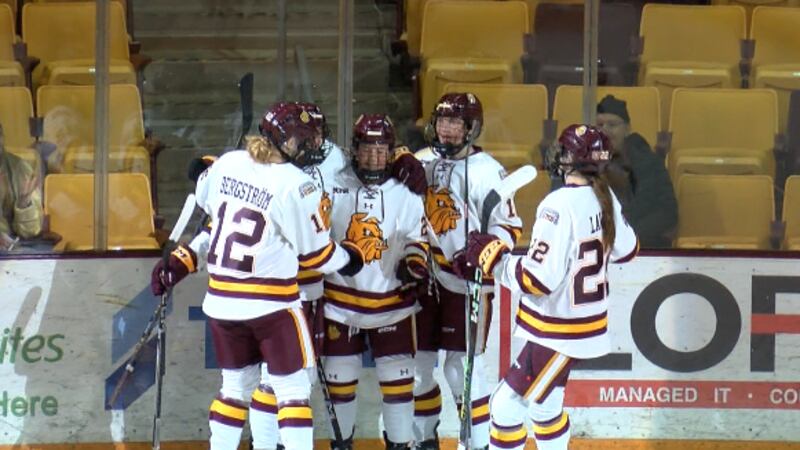 Published: Nov. 3, 2023 at 10:21 PM CDT
DULUTH, MN. (Northern News Now) - The University of Minnesota Duluth women's hockey team was back at AMSOIL Arena after picking up four straight wins on the road.
The Bulldogs beat the University of St. Thomas by a score of 3-1 for their first win at home since Oct. 7.
UMD would start the game up early with graduate senior Reece Hunt scoring her fifth goal of the season off an assist from Olivia Wallin.
Seven minutes later senior and team captain Mannon McMahon netted one on her own to help the Bulldogs go into the second period up 2-0.
In the second period, the Wallin-to-Hunt connection made a return with the help of freshman Quinn Dunkle who earned her first assist and point with the Bulldogs.
St. Thomas would score their only goal of the night with 11 minutes remaining in the final period.
Sophomore goalie Hailey MacLeod had 23 saves and picked up her fourth win of the season.
McMahon and Hunt are now tied with Clara Van Wieren with the most goals on the season (6).
UMD is back at home against the Tommies at 3:01 p.m. on Saturday.
Click here to download the Northern News Now app or our Northern News Now First Alert weather app.
Copyright 2023 Northern News Now. All rights reserved.