Wisconsin's Democratic governor sues GOP-led Legislature over blocking 'basic functions'
Published: Oct. 31, 2023 at 9:26 AM CDT
|
Updated: Oct. 31, 2023 at 7:35 PM CDT
MADISON, Wis. (AP) — Wisconsin Democratic Gov. Tony Evers on Tuesday sued the Republican-controlled Legislature, arguing that it is obstructing basic government functions, including signing off on pay raises for university employees that were previously approved.
Evers is asking the liberal-controlled Wisconsin Supreme Court to take the case directly, bypassing lower courts.
Evers said it was "a bridge too far" and "just bull s---" that Republican state lawmakers were telling 35,000 University of Wisconsin employees who were expecting pay raises to "stick it."
"You can't do that," Evers told reporters at a news conference. "That's why we're suing and that's why we're going to win."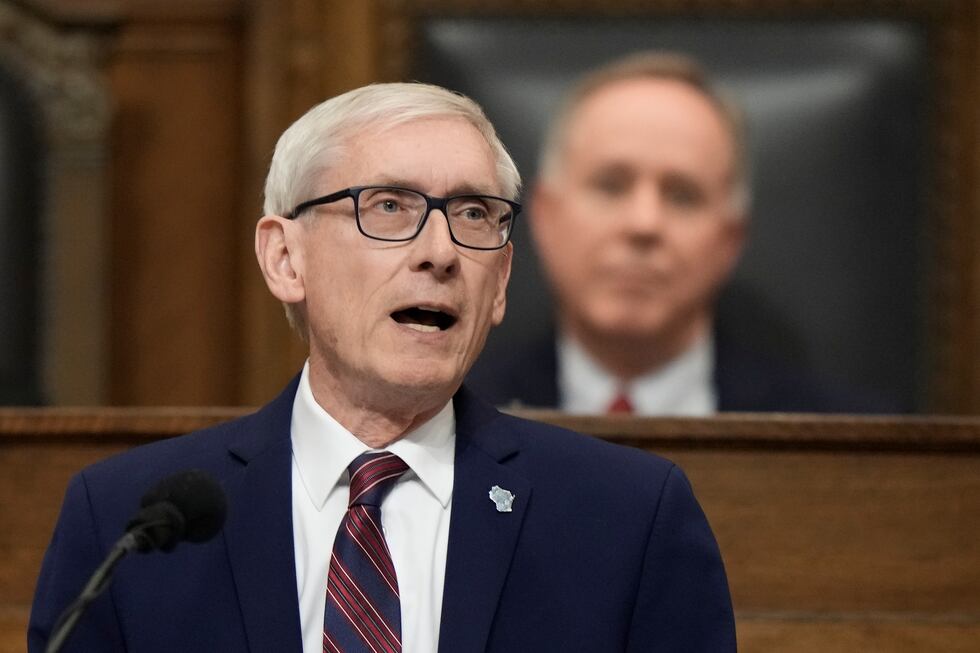 Evers argues in the lawsuit that committees controlled by a few Republican lawmakers are being used by the Legislature to "reach far beyond its proper zone of constitutional lawmaking authority."
Republican legislative leaders, Senate Majority Leader Devin LeMahieu and Assembly Speaker Robin Vos, did not immediately return emails seeking comment. Sen. Howard Marklein, chairman of the Legislature's budget committee, said after a hearing Tuesday that he had not seen the lawsuit and declined to comment.
In addition to not approving the University of Wisconsin pay raises, Evers argues that the Legislature is blocking state conservation programs, updates to the state's commercial building standards and ethics standards for licensed professionals.
"Small groups of legislators exercise executive authority over large swaths of government activity," the lawsuit argues. "The powers to create and to execute the law need to be separated again."
The Legislature included a 6% pay raise for UW employees over two years in the state budget it passed earlier this year that Evers signed. But pay raises also must then be approved by a GOP-controlled committee of legislative leaders. That panel on Oct. 17 approved pay raises for state workers, but not UW employees because Vos opposes spending at the university for diversity, equity and inclusion efforts and positions.
Evers cites the Legislature's budget-writing committee's rejection of dozens of conservation projects selected by the Wisconsin Department of Natural Resources under the Knowles-Nelson Stewardship Program. Republicans have long been critics of the program, which protects land from development.
The lawsuit also cites the Legislature's Joint Committee for Review of Administrative Rules, which has blocked rules developed by a state agency and board to update Wisconsin's commercial building standards and ethics standards for social workers, marriage and family therapists, and professional counselors.
The lawsuit is the latest salvo in the contentious relationship between Evers and the Republican Legislature.
Evers and the GOP-controlled Legislature have been at odds from the moment Evers was elected in November 2018. He has issued more vetoes than any other Wisconsin governor, including blocking numerous bills changing how elections would be run in the key presidential battleground state.
The Legislature convened a lame duck session just weeks before Evers took office to weaken the incoming governor's powers. They have repeatedly rejected appointees Evers has made to boards and commissions, including firing a majority of the Natural Resources Board in October.
In another sign of their strained relationship, Evers has rarely met with Republican legislative leaders. Evers is in the first year of his second term.
Republicans have worked to increase the number of seats they hold to near veto-proof supermajorities. They have the necessary two-thirds majority in the Senate and are two votes shy in the Assembly.
Evers and other Democrats support a lawsuit before the state Supreme Court seeking to have the Republican-drawn legislative map tossed out in favor of one that would likely reduce the GOP majorities. Oral arguments in that case are scheduled for Nov. 21.
Evers' new lawsuit contends that the Legislature is effectively attempting to change state law without passing a bill and sending it to the governor for either approval or a veto. The lawsuit contends that similar efforts by legislatures have been struck down by courts in Alaska, Kentucky, Michigan, New Jersey, Mississippi and West Virginia.
The lawsuit argues that the state Supreme Court should take the case directly because of its significant statewide impact and the harm from blocking the pay raises, delaying programs and failing to achieve modern building standards. Four of the court's seven justices, who are elected, are liberals, giving them a majority.
If the court agrees to accept the case, it would then set deadlines for arguments within weeks. Otherwise the case would have to work its way through the lower courts first, which would likely take months or longer.
___
Associated Press writer Harm Venhuizen contributed to this report.
Copyright 2023 The Associated Press. All rights reserved.