New Walz exec. order opens up workforce to Minnesotans without 4-year degree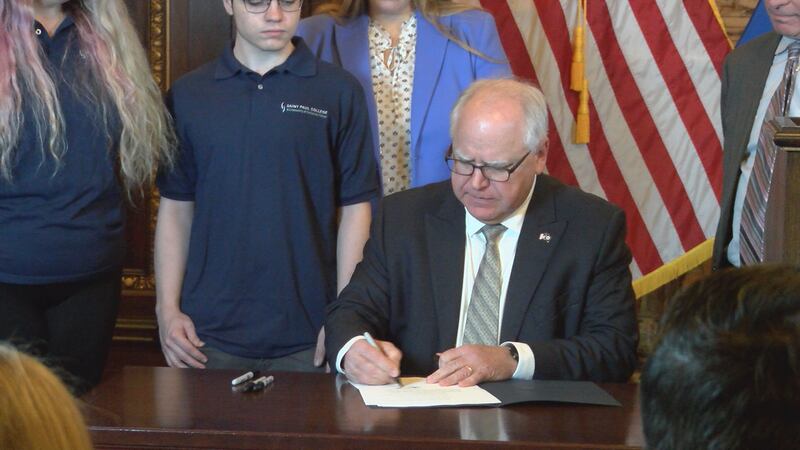 Published: Oct. 30, 2023 at 8:35 PM CDT
ST. PAUL, Minn. (GRAY) – With the stroke of a pen, Governor Tim Walz opened up thousands of jobs to Minnesotans without a college degree. The governor signed Executive Order 23-14 on Monday, removing the 4-year degree requirement from 3/4ths of state government jobs.
"This executive order we're signing today is going to open up about 75% of state jobs, that in many cases had a list of skill requirements, but also included a four-year degree," Walz said.
By the administration's estimates, 25,000 state jobs will now require no more than an associate degree to attain.
Some jobs, like state nurses, psychologists, and civil engineers, will still require a degree, but 17 out of every 20 jobs with the state of Minnesota will not.
"[The state of Minnesota is] the second-largest employer in the state. We have over 1,200 jobs that are available out there, ranging from mechanics to psychologists in the Department of Correction, and everything in between," Walz said.
Walz and his administration hope the benefits of the move manifest quickly. The state has seen a lot of growth in labor-force participation recently, meaning there are plenty of Minnesotans actively looking for a job.
The new order ought to help fill new positions by making them more accessible.
"At a time when Minnesota has seen seven straight months of labor force growth, we need all of you. We know that you will make an excellent employee with or without a four-year degree," said Lieutenant Governor Peggy Flanagan.
Walz also shared a different take on the order: In his eyes allowing an equal opportunity for people who weren't able to attend college.
"We also think, without a doubt, there's a big equity piece in this by college being more difficult and inaccessible for communities of color," said the Governor.
Copyright 2023 KTTC. All rights reserved.