Antetokounmpo, Lillard help Bucks build big lead, hold off Heat in playoff rematch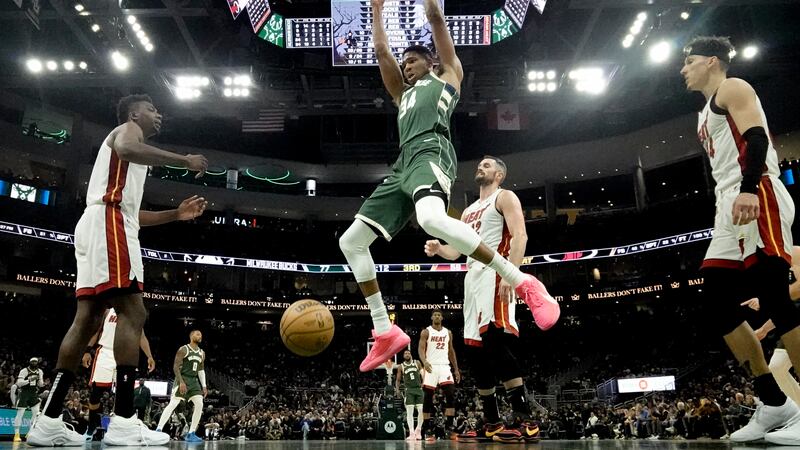 Published: Oct. 30, 2023 at 9:59 PM CDT
MILWAUKEE (AP) — Giannis Antetokounmpo scored 33 points, Damian Lillard added 25 and the Milwaukee Bucks built a 25-point lead before holding off the Miami Heat 122-114 on Monday night.
The Heat were playing without two-time All-Star center Bam Adebayo, who bruised his hip Saturday in a loss at Minnesota.
Tyler Herro led the Heat with 35 points.
This game carried more intrigue than a typical October matchup because of the postseason and offseason connections between these two teams.
The Heat stunned the top-seeded Bucks in last season's playoffs, winning their first-round series in five games. The Heat ended up going all the way from the play-in round to the NBA Finals, while the Bucks responded to the upset by firing coach Mike Budenholzer and replacing him with former Toronto Raptors assistant Adrian Griffin.
Milwaukee executed the biggest move of the offseason by acquiring seven-time all-NBA guard Damian Lillard, who expressed a preference to play for the Heat when he initially requested a trade from the Portland Trail Blazers.
Miami closed its playoff triumph over Milwaukee by completing huge comebacks in the last two games of the series, and the Heat rallied down the stretch to make it close on Monday. The Heat made this fourth-quarter run with playoff hero Jimmy Butler and most of their other starters on the bench.
After trailing 103-78 with less than 10 1/2 minutes remaining, Miami got the margin down to single digits. A jumper by Duncan Robinson cut the lead to 115-109 with 1:22 left.
Antetokounmpo converted a three-point play with 1:16 remaining, The Bucks' lead didn't drop below six the rest of the way.
In last year's playoffs, Miami produced a 119-114 Game 4 victory by outscoring the Bucks 30-13 in the final six minutes. The Heat rallied from a 16-point, fourth-quarter deficit to win the clinching game 128-126 in overtime.
UP NEXT
Heat: Host Brooklyn on Wednesday.
Bucks: At Toronto on Wednesday.
Copyright 2023 The Associated Press. All rights reserved.