Bulldog Country honors the life and legacy of Adam Johnson
Published: Oct. 30, 2023 at 12:45 PM CDT
DULUTH, MN. (Northern News Now) - Heartbreak has spread across the globe over the weekend, but especially throughout the Northland's hockey community.
Adam Johnson tragically died Saturday during a hockey game in England.
His former teammates and those who watched him grow and excel right in the Northland shed light on a life lost too soon.
RELATED: Hibbing community remembers hometown hero Adam Johnson, who died in 'freak' hockey accident
Adam Johnson was a son, a brother, and a beloved teammate to many across the state of hockey.
But most notably he was one with a big dream from a small town.
"From Hibbing to up north everyone has the dream of playing for Duluth and being so close," said Jarrett Lee, Hibbing native and former UMD Bulldog. "He was kind of the first guy of our age group that was able to accomplish that and go there."
Johnson played for the Hibbing/Chisholm Bluejackets from 2009-2013.
A pillar of the program leading Hibbing in scoring in his last three seasons while capping off his senior season as a finalist for the 2012-13 Minnesota Mr. Hockey award.
Lee, a close friend and former teammate to Johnson, had a front-row seat to it all.
"Growing up watching him play and looking up to him in so many ways. I mean when you think of Hibbing hockey it's pretty hard to argue that Adam doesn't come to mind," said Lee. "He was always his most happy when he was up in Hibbing. I think he was really proud of where he's from as most of us are."
The Hibbing star who led his team to the 2011 Minnesota State Tournament, was a household name throughout the community then and even more so to those who put on a Hibbing sweater.
"I think the one thing that sticks out is just like what I was saying before, to a lot of kids of this generation and my age and younger he was the symbol of Hibbing hockey," explains Lee.
But the Iron Range is not the only place Johnson called home.
When it came time to make a decision on where he wanted to play next, the only answer was Bulldog Country.
"His dad was a captain at UMD, the family ties. Scott Sandelin is from Hibbing, an area that is very passionate about Bulldog hockey. Again he wanted to be a Bulldog," said Bruce Ciskie, Radio Voice for Bulldog hockey.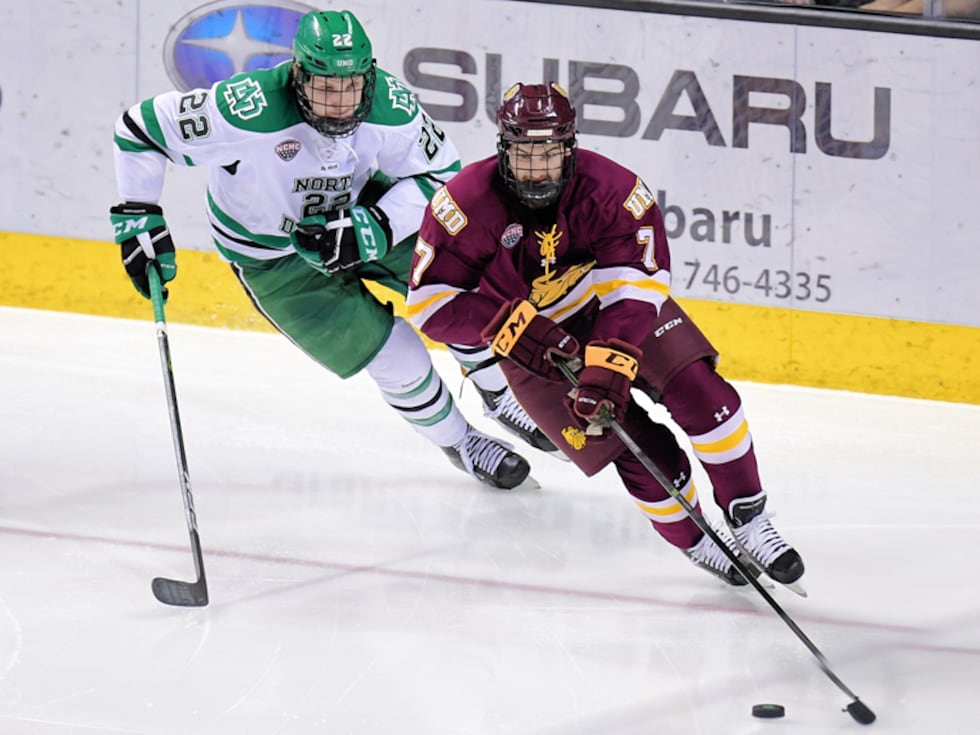 Adam and his father Davey Johnson became just one of 12 father-son duos to dawn the Bulldog logo.
Wearing the maroon and gold was something Adam displayed with pride and joy.
"He was always happy to be around the rink and happy to be doing everything that meant to be a Bulldogs hockey player," said Zach Schneider, Play-by-Play Broadcaster for Bulldog hockey. "Being from Hibbing, you could tell it was his lifelong dream to play at UMD."
"He was always insightful and always smart. You could tell he was honest and you could also tell his passion for the program," explained Ciskie. "He cared about this place, he wanted to be a Bulldog for a very long time and he got to fulfill a dream playing for UMD."
Johnson made the most of his time at UMD, including a breakout season as a sophomore where he ranked second among all Bulldogs in goals, points, and shots.
"One of the more beautiful goals he scored in his UMD career of course, I'm sure a lot of people have seen the clip of him scoring the overtime winner in 2017 to send UMD to the Frozen Four in Chicago," said Ciskie. "That was a game that was full of NHL talent and again Adam Johnson fit right in."
"If you think about the time that Adam was there those were a couple of special teams that launched an incredibly special era in Bulldog hockey, their run to four straight Frozen Fours," said Josh Berlo, former UMD Athletic Director.
While his performance on the ice left family, friends, and fans in constant awe, his love for his people mirrored more of the same.
"Definitely one-of-a-kind guy. Talking with some of my buddies last night, quickly, the word that we just kept using to describe him was just so genuine," said Lee. "He was just someone so easygoing, easy to be around, and is definitely going to be missed by many."
"He knew that hockey had brought him great joy in life and that was pretty evident every time you had a chance to talk to him," said Schneider. "He was one of those guys that was great about trying to pass that on."
There is no doubt that Johnson has left an impact on everyone he's encountered.
Following his heartbreaking passing, the hockey community from across the world has teamed up as one, taking to social media to show their support from the NHL, ESPN, Bally Sports, and the Minnesota Wild.
Adam Johnson embodied everything that every hockey player and person hopes to be and that legacy will live on.
"He always struck me as an incredible teammate and saw the big picture and wanted to play his role in what he could do to further the goals of the team," said Berlo.
"I think will largely be his legacy at UMD. It's who Adam Johnson was when they got a chance to talk to him or when his kids got a chance to talk to him, more so than the goals that he scored or the highlights that he produced on the ice," said Schneider. "I think that's how he will be remembered and that's a good thing because that was important to Adam as well."
During various sporting events around the world this weekend, moments of silence were held to honor the life and legacy of Adam Johnson, including the Heritage Classic game in the NHL between the Oilers and the Flames.
The NCHC announced that all games on Friday will have a moment of silence pre-game as well.
While the Hibbing High School hockey team says they will wear a commemorative patch in honor of Adam all season long.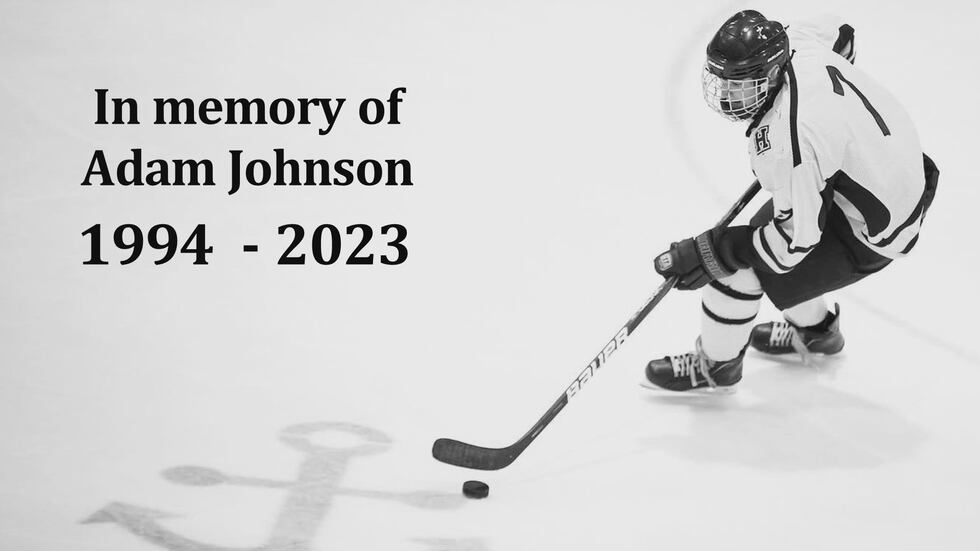 Click here to download the Northern News Now app or our Northern News Now First Alert weather app.
Copyright 2023 Northern News Now. All rights reserved.