Ryan Hartman has hat trick on 5-point night, Wild beat McDavid-less Oilers 7-4
Joel Eriksson Ek, Mats Zuccarello, Marcus Foligno and Marco Rossi also scored for Minnesota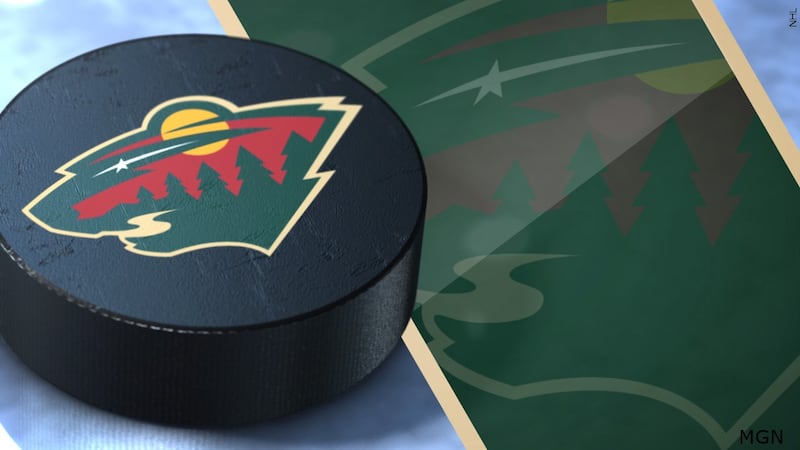 Published: Oct. 25, 2023 at 12:45 PM CDT
(AP) -Ryan Hartman scored three goals as part of a career-high-tying five-point game, and the Minnesota Wild scored five times in the final period to beat the Edmonton Oilers 7-4 on Tuesday night.
It was Edmonton's first game without captain and three-time MVP Connor McDavid, who suffered an upper-body injury Saturday and is expected to miss a week or two.
Hartman recorded his first hat trick since Jan. 8, 2017, converting a feed from Jake Middleton for a short-handed tally and a 6-4 lead with 4:10 left. He got his second goal 38 seconds into the third period.
Joel Eriksson Ek and Mats Zuccarello also scored in third for the Wild before Marcus Foligno added an empty-netter. Marco Rossi and Hartman scored in the first period for Minnesota, and Filip Gustavsson finished with 25 saves.
The Kirill Kaprizov-Hartman-Zuccarello line has been waiting for a game like this: four goals and six assists, including three helpers by Kaprizov. It had four goals and 11 assists in Minnesota's first five games.
"We were able to find each other early," Hartman said. "We kind of talked about it as a line, we've been watching some shifts together and too many times we were trying to get inside, or were forcing it a little bit. You know, I think we've kind of been keeping it and waiting for our moment to strike as opposed to forcing it. We've been holding onto it and making really good plays. That was the difference tonight."
Warren Foegele scored twice, and Evan Bouchard and Evander Kane also scored for the Oilers.
Hartman's goal early in the third tied the game at 3-all. Zuccarello scored from the slot at 6:48 and Eriksson Ek made a quick backhand-to-forehand move at 10:28 to make it 5-3.
Edmonton was 1 for 5 on the power play after entering with the fifth-best success rate in the league at 30% through six games. That goal came from Kane on a redirect with just over seven minutes left to get the Oilers within 5-4.
"Disappointing feeling in here," Oilers goaltender Jack Campbell said. "We scored enough to win. They made some really nice plays and capitalized."
Campbell made 24 saves, including a sprawling, reaching-back-with-his-stick second-period save to rob Pat Maroon after a perfect pass across from Kaprizov.
"I thought the second period for Jack might have been his best as an Edmonton Oiler, numerous stick saves," Oilers coach Jay Woodcroft said.
Minnesota has won nine of the past 10 meetings with Edmonton.
Over the past couple days, Woodcroft has emphasized McDavid's absence is an opportunity for other players to step up.
"No one's going to replace someone like that. And we need everyone in here to buy in and bring a little bit more, each of us. He's a huge part of our team. If we have everyone doing a little bit more, I like our chances of being competitive," said Foegele, who is now up to three goals. Bouchard has two and Kane's goal was his first of the season.
A slap shot from Bouchard went into the net 54 seconds into the game, the quickest goal by an Oilers defenseman since Jeff Petry scored 32 seconds into a game Feb. 3, 2014. But Edmonton failed to capitalize on a two-man advantage less than two minutes later.
Rossi scored on a redirection midway through the period for Minnesota, before Foegele and Hartman scored on rebounds 34 seconds apart late in the frame to make it 2-2.
Foegele beat Gustavsson with a wrist shot from the slot 33 seconds into the second period.
FINAL FRAME FIZZLE
Edmonton has been outscored 10-1 in the third period this season. However, the Oilers entered the night second in the league with seven first-period goals.
UP NEXT
Oilers: Begin a four-game homestand Thursday night against the New York Rangers.
Wild: At Philadelphia on Thursday night.
Copyright 2023 The Associated Press. All rights reserved.