Warrant says Minnesota investigators found meth in house after gunbattle that wounded 5 officers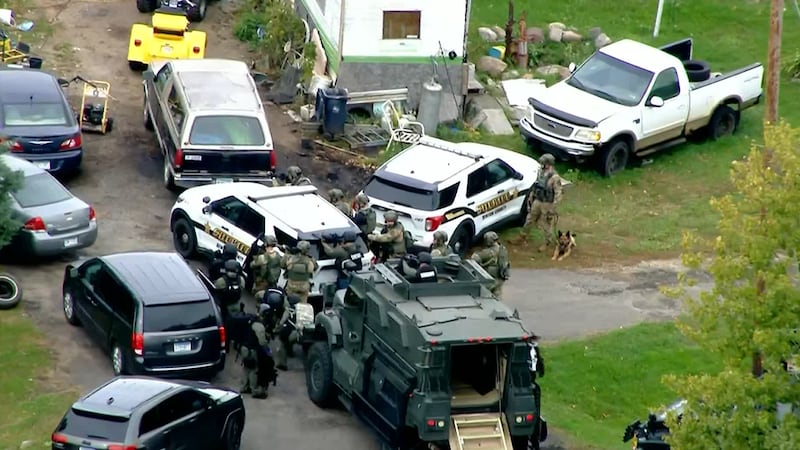 Published: Oct. 24, 2023 at 12:02 PM CDT
MINNEAPOLIS (AP) — Investigators found methamphetamine and traces of the stimulant while searching the home of a Minnesota man who's now charged with attempted murder in the shootings of five drug task force officers, a search warrant released Monday says.
Investigators suspected Karl Thomas Holmberg, 64, and his wife of selling methamphetamine when they raided their house Oct. 12, according to a separate search warrant released last Wednesday.
Five officers suffered nonfatal injuries when the gunfire broke out, while a sixth officer who was present in the home was unhurt. Holmberg was injured in his foot. He was charged the next day with six counts of attempted first-degree murder of a peace officer and six counts of first-degree assault of a peace officer. His wife has not been charged.
Several agencies, led by the Minnesota Bureau of Criminal Apprehension, are investigating, and many details remain sketchy about the incident at Holmberg's home in Glendorado Township near Princeton, about 50 miles (80 kilometers) northwest of Minneapolis.
An inventory returned with the warrant released Monday said that investigators from a regional violent crime task force found a crystal-like substance that tested positive for meth in a plastic bag inside a cigarette pack and in a prescription pill bottle with Holmberg's name on it. Both items were found in the northwest bedroom of the house after the gunbattle.
The inventory said they also found traces of meth in empty containers on a dresser in the bedroom, in a container found on the headboard of a bed in the room and on the headboard itself. The inventory did not give the quantities of drugs that were found. But it also listed two digital scales found in the bedroom, as well as a handgun, a short-barreled shotgun, ammunition and two shotgun barrels.
A second warrant released last Wednesday showed that a fire broke out in the same bedroom during the standoff between the initial gunfire and Holmberg's arrest nearly four hours later. It said Holmberg exited, look back, then went back inside before eventually being taken into custody. That warrant said it appeared that a headboard in the bedroom had been burning.
Holmberg remained jailed Monday with bail set at $6 million without conditions, or $3 million with standard conditions such as a ban on possessing weapons or ammunition. His application for a public defender was approved late last week after an initial rejection, but he still did not have an attorney who could speak on his behalf. He was due for a routine court appearance Tuesday at which a judge will set a date for a future hearing when he may enter a plea.
Click here to download the Northern News Now app or our Northern News Now First Alert weather app.
Copyright 2023 Northern News Now. All rights reserved.