Man and woman charged for breaking into home, shooting dog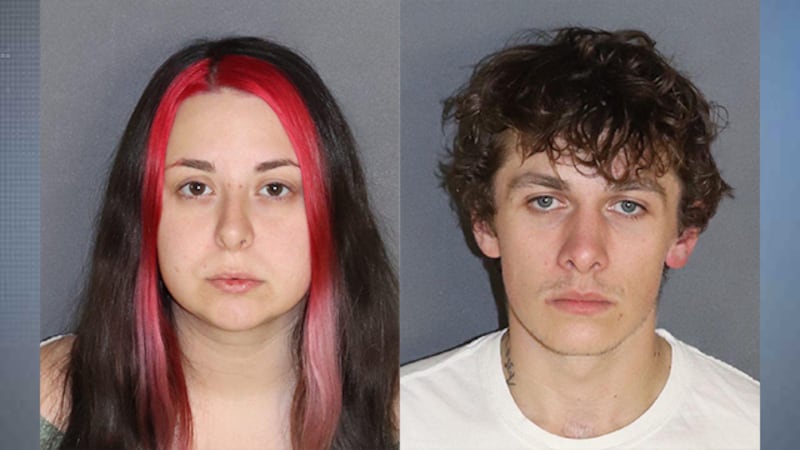 Published: Oct. 24, 2023 at 1:43 PM CDT
VIRGINIA, MN. (Northern News Now) - The two who held an Iron Range homeowner at gunpoint and killed their dog during a break-in have now been charged.
Dakota Jakob Sandberg, 24, of Virginia has been charged with multiple felonies including first-degree burglary, second-degree assault, and animal cruelty.
Heather Ann Nappa, 25, also of Virginia was charged with felonies including aiding and abetting to first-degree burglary and aiding and abetting to second-degree assault.
According to the criminal complaint, on October 20 at around 4 a.m., the Virginia Police Department was dispatched to a residence on 15th Street North in Virginia.
The caller stated Nappa and an unknown male, later identified as Sandberg, entered her home and shot her dog.
Officers learned that the victim let Nappa stay with her in the past, but was no longer allowed to stay at the victim's residence.
Court documents say the victim was sleeping in her bedroom with the door open when she heard someone enter her residence, causing her dog to jump off the bed to greet whoever entered.
Nappa and Sandberg were wearing black ski masks and clothing when they approached the victim's bedroom.
Sandberg then shot the victim's dog before pointing the handgun and flashlight at her face.
The victim told authorities that they demanded money and "stuff" from her.
She was able to force her bedroom door shut, and Nappa and Sandberg left.
The victim was able to recognize Nappa by the sound of her voice.
Inside the residence, officers located the dog which had died from an apparent gunshot wound to the head, with a spent 9mm casing nearby.
A few blocks from the residence, officers located several items including, 9mm rounds and a flashlight one could mount to a handgun.
According to the criminal complaint, authorities pinged Nappa's phone and later located her at a residence in Ely.
Nappa told officers that the victim owed her money.
The victim told her she would give the money to Nappa, but she was afraid it was a setup, so she brought Sandberg.
It is stated that Nappa allegedly did not know Sandberg had a gun.
Officers located Sandberg at a different location in Virginia.
He told authorities that he ran into Nappa at the Short Stop in Virginia when she mentioned she was robbed by the victim.
Sandberg jokingly brought up collecting the money from the victim and Nappa agreed.
She then messaged Sandberg shortly after about how they would collect the money and agreed he could take all the money they collected.
Then, Nappa picked up Sandberg and brought him to the victim's residence.
Court documents say they entered the victim's residence and heard a dog bark near the bedroom.
Sandberg pointed a 9mm handgun with a light attached at the victim when the dog jumped on him and tried to bite him.
He then shot and killed the dog.
Nappa started demanding money from the victim and they left.
Sandberg also admitted to later emptying the magazine from the handgun and throwing it into Bailey's Lake.
Nappa and Sandberg are each looking at up to 20 years in prison for the incident.
Click here to download the Northern News Now app or our Northern News Now First Alert weather app.
Copyright 2023 Northern News Now. All rights reserved.