Gov. Walz kicks off state infrastructure tour with stop in St. Paul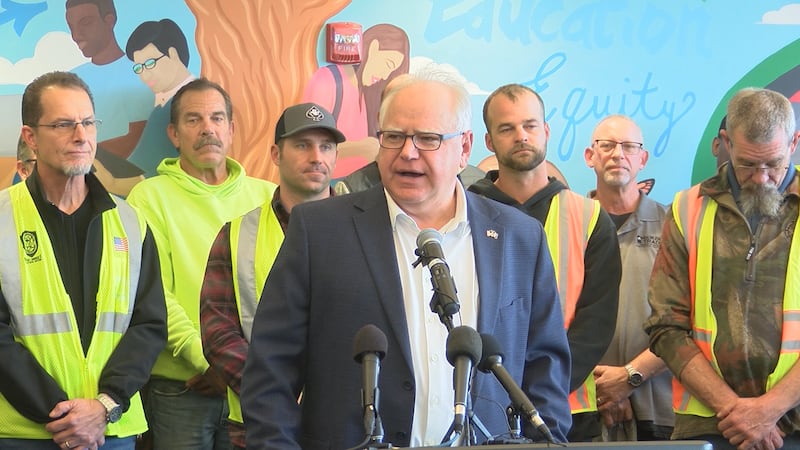 Published: Oct. 23, 2023 at 8:06 PM CDT
ST. PAUL, Minn. (GRAY) – Governor Walz started a statewide tour Monday to highlight infrastructure projects across the state. The governor's first visit was to St. Paul Technical College.
The college is seeking funding to modernize its facilities.
"Everything will change on the inside our classrooms will become more flexible, and better for teaching. Our students' services will be easier to access. We'll be able to actually address our students' needs in a much more strategic way," said Deidra Peaslee, President of the College.
The governor's tour comes after a huge boost in state infrastructure funding last year.
"We made the single biggest investments in infrastructure that we've ever made in Minnesota's history," Walz said after his tour of the facilities.
Gov. Walz is looking to repeat the feat this year. The stop in St. Paul is one of many he said he hopes to make. The governor explained the importance of bonding, for both physical and economic infrastructure.
"This is how you make sure all across Minnesota that things are being done. So, for me, it's exciting to get out here. We go and look at these projects, we ask the questions about what's going to be there," said Walz.
While the state eventually passed a massive $2.6 billion infrastructure package in 2023, the bill was plagued by politics for much of the legislative session. Republicans in the Minnesota Senate refused to pass the bill without certain concessions, leading to a last-minute agreement just a few days before the session ended.
Walz expects less drama this year.
"Bonding is still the one thing I have to tell you: It is truly bipartisan. It gets folks excited about it. It's fiscally responsible to do it and it brings the civic pride," said the governor.
Copyright 2023 KTTC. All rights reserved.