No. 14 UMD men's hockey earns first overtime victory with 5-4 win over Bemidji State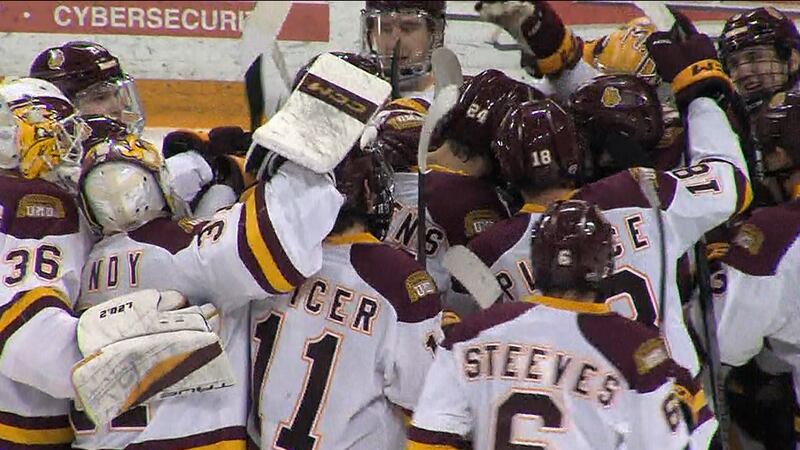 Published: Oct. 21, 2023 at 9:23 PM CDT
DULUTH, MN. (Northern News Now) - For the third time in their first five games the University of Minnesota Duluth men's hockey team would need the help of overtime to decide their game.
This time the Bulldogs were in Bemidji State where they defeated the Beavers 5-4.
The first period of the game was controlled by Bemidji State University (BSU) as fifth-year defenseman Kyle Looft scored two power-play goals. The first was scored five minutes into the period while the second was netted 30 seconds before the end of the period.
In the second, the Bulldogs would answer back with their own two-goal period.
Sophomore Riley Bodnarchuk scored the first goal of the game but also the first of his Bulldogs career off an assist from another sophomore in Jack Smith.
The Bulldogs would get the help of a familiar hand in Ben Steeves as he netted his team-leading fifth goal of the season to tie the game 2-2 heading into the third period.
In the third period, UMD would take their first lead of the game as sophomore Kyle Bettens scored an even-strength goal seven minutes into the period. Bodnarchuk and Steeves were given the assists on the goal.
About halfway through the third, UMD was rewarded a penalty shot and graduate senior Quinn Olson would turn it into a goal to give the Bulldogs a 4-2 lead with ten minutes remaining.
Bemidji wouldn't go away, scoring their third goal of the night only three minutes later to bring it within one.
With just over two minutes remaining the Beavers would pull their goalie and make the most of it, tying the game up off Adam Flammang's second goal of the season.
Neither team scored in the final two minutes so the game would go to overtime tied 4-4.
This would be the Bulldogs' third overtime match of the season with the last two ending in ties.
UMD's Cole Spicer made sure the Bulldogs would leave with a win, scoring the game-winning goal unassisted in under thirty seconds of overtime play.
Spicer now has a goal in his last three games as the Bulldogs are still undefeated at 3-0-2.
The Bulldogs will be on the road for both games next weekend when they face Cornell University in Ithaca, New York at 6 p.m. on Friday and Saturday.
Click here to download the Northern News Now app or our Northern News Now First Alert weather app.
Copyright 2023 Northern News Now. All rights reserved.