UMD defeats Minot State 42-7 off the help of three McKnight TD's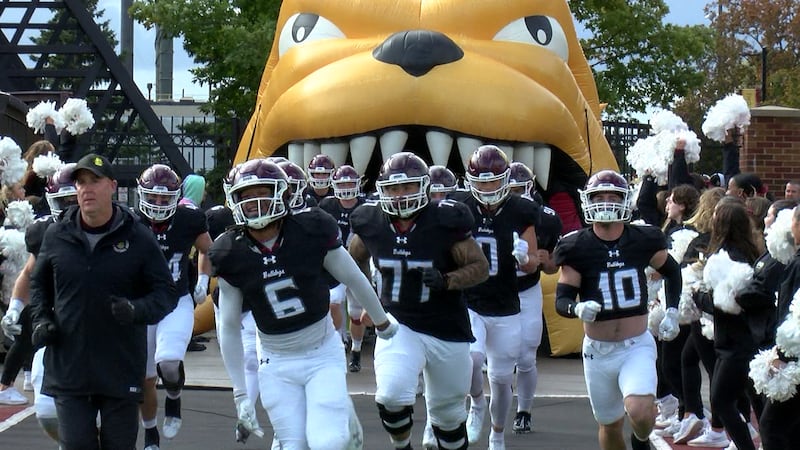 Published: Oct. 21, 2023 at 3:48 PM CDT
DULUTH, MN. (Northern News Now) - The University of Minnesota Duluth football went down to Minot State University (MSU) to face the 1-6 Beavers on Saturday.
Minot State would receive the first-half kickoff but would have to punt after they only picked up one first down.
The Bulldogs would open the scoring by handing the ball off to sophomore Jaylen McKnight for three tries inside the 10-yard line and he would get it all the way in on the third try from a yard out.
Minot State wouldn't let UMD have the lead for long, returning the preceding kickoff for a 100-yard touchdown to tie it up at 7-7.
The Bulldogs would respond with a six-play 75-yard drive that was capped off by a nine-yard run to give McKnight his second touchdown of the day. 14-7 Bulldogs.
It would stay stagnant for the rest of the first and the beginning of the second quarter until UMD's senior defensive back Ty'Rese Gibson intercepted Minot State to give the Bulldogs possession only 33 yards away from the endzone.
Quarterback Kyle Walljasper would rush for 12 yards before it was McKnight on the carry once again. He scored his third touchdown on a 21-yard run to the left as UMD took a 21-7 lead with just over two minutes remaining in the first.
The score stayed that way until the Bulldogs took the opening second-half drive all the way down to the 2-yard line before Walljasper punched it in for his first touchdown of the day.
UMD would force a three-and-out on the next MSU drive to set up a 45-yard touchdown run by Walljasper that would give the Bulldogs a 35-7 lead with seven minutes left in the third quarter.
The final score of the game would come with eleven minutes left in the game as UMD senior Ethan Beffert forced a fumble that was scooped up by another senior in Brian Konz who took it 70 yards back to make it 42-7.
UMD moves to 7-1 on the season and will be back home next Saturday at 12 p.m. when they face No. 15 Bemidji State.
The game will be broadcast on the MY9 Sports Network.
Click here to download the Northern News Now app or our Northern News Now First Alert weather app.
Copyright 2023 Northern News Now. All rights reserved.