Minnesota Rep. Tom Emmer "making calls" in pursuit of nomination for House speaker
Currently, he's in the number three spot in House leadership as majority whip.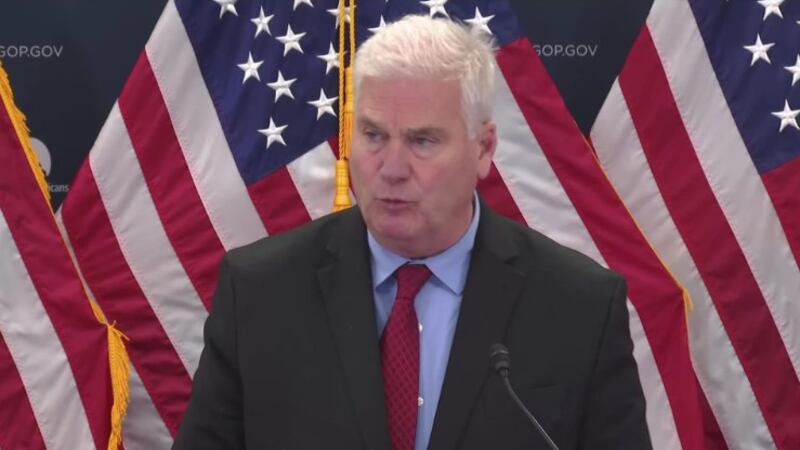 Published: Oct. 20, 2023 at 3:43 PM CDT
WASHINGTON, D.C. (WCCO) - Rep. Tom Emmer is making calls in pursuit of a nomination to become the next U.S. House speaker following the unprecedented removal of Rep. Kevin McCarthy earlier this month, a source close to Emmer has confirmed.
The leadership vacuum in the House has left Congress unable to conduct business, and bids from Republican Reps. Steve Scalise and Jim Jordan were both shot down by different factions of the House Republican caucus.
Emmer had earlier said he would not seek the speakership, instead saying he would go for a position as the House Majority Leader. Currently, he's in the number three spot in House leadership as majority whip.
In the interim period since McCarthy's ouster, Republican Rep. Patrick McHenry has been serving as speaker pro tempore.
Rep. Ken Buck, of Colorado, voted for Emmer multiple times during the most recent votes for speaker, during which Jordan failed to secure enough votes to secure the role.
Earlier this month, Democratic Rep. Dean Phillips said he did not regret his vote to remove McCarthy, and suggested his colleague Emmer as a replacement.
"Congress cannot do a single thing until my GOP friends choose a new Speaker of the House. And it is their choice. They're in the majority. It is their task, it's their job. We cannot do anything. What should we do? We have to support Israel. We have to support Ukraine. It's not just about nations and other countries around the world. This is about an existential threat to freedom and to democracy," Phillips said.
Other candidates
Soon after the GOP conference dropped Jordan as its speaker nominee, some Republicans began thinking about whether they should take a shot at the speakership.
Rep. Kevin Hern of Oklahoma told reporters, "I'm in," and added, "We've got to make a lot of phone calls this weekend."
Hern had earlier considered running after McCarthy's ouster and said in a letter to colleagues that he "called, texted or met" with all 221 Republicans in the conference to ask what they wanted to see in their next speaker. But he withdrew from the race because he believed a "three-man race for Speaker will only draw this process out longer, creating further division which would make it harder for any candidate to reach 217 votes."
Rep. Jack Bergman of Michigan also said he was entering the race.
"My hat is in the ring, and I feel confident I can win the votes where others could not. I have no special interests to serve; I'm only in this to do what's best for our Nation and to steady the ship for the 118th Congress," he said in a statement.
Copyright 2023 KVLY. All rights reserved.