Special Report: Duluth employers band together to spark new home construction
Published: Oct. 16, 2023 at 10:22 PM CDT
DULUTH, MN. (Northern News Now) - Homeownership continues to be the American dream.
However, for many right now in Duluth, the search for that dream feels more like a nightmare.
The city is still in the throes of a housing crisis as interest rates skyrocket.
Frustration's growing for potential buyers, but also employers unable to attract new workers to the area.
When it comes to buyers, young couples like Casey Cooper and Mary Dougherty of Duluth recently underestimated how tough it would be to find and buy their first home.
"Got ahold of a realtor in December, thinking we'd have plenty of time to get a house by the time our lease was up," said Cooper. "So we started in December and we put in five different offers."
At the time, the couple was also months away from the due date of their first child.
After five offers over three months, they eventually found themselves still in an apartment, and weeks away from the due date.
"It's just demoralizing," said Cooper. "A house would go on the market and it would be gone in a day-and-a-half. There's just not a lot of inventory."
Inventory -- Duluth's forever problem.
According to the city, in the last ten years, 389 new single-family homes have been built.
However, 353 such homes have been demolished.
That means Duluth's seen a net gain of just 36 houses in a decade.
In the Kenwood neighborhood, Sean Hollencamp's new home is currently being built.
"You gotta have patience," said Hollencamp.
It's one of just a few single-family home construction sites in a city that has limited places to build, few contractor options, and a very old housing stock.
For Hollencamp, it's been a two-year process to reach this point.
His sub-contractor says it shouldn't be that way.
"A project like this should be permitted in less than two weeks," said Licensed building contractor Darrel Johnson. "In Duluth, there's more to the permitting process, which means there's more people that have to review each and every part of the permit, which causes delays, and honestly, confusion."
Darrel Johnson, who has projects both inside and outside Duluth, says in addition to complications at City Hall, few developers want to take on the sky-high costs of building in Duluth.
"To expand developments in the city of Duluth, the developer himself would have to extend city roads, city water, and city sewer," said Johnson. "That portion of the project is very expensive and it stops lots from being developed."
He says the city getting that infrastructure in place for developers to come in and build would be a game-changer.
"If we're in need of housing, we need the city to step up as well," said Johnson.
The city has stepped up before. Prior to Covid, a Hawk Ridge subdivision resulted from a Duluth HRA project. The city put in streets, curbs, and utilities, selling lots to private developers at market rate. It was a success story, but one developers say they need more of.
"I do think we could look at it," said Duluth Planning and Economic Development Director Chad Ronchetti.
However, Ronchetti says in addition to it being a spendy venture, it's also risky.
"Cities used to do that a lot more prior to the 2008 crisis," said Ronchetti. "They were plowing money into infrastructure. When the meltdown happened they were left with infrastructure without housing. They were saddled with the debt service. So there's been a real fear since then to shoulder the cost burden with housing to stimulate development."
But Duluth's business community needs housing now to attract new workers to the area, which is why those employers might soon take matters into their own hands.
"A manufacturer in our community had 33 positions and candidates that had expressed interest that they were ready to hire," said APEX President and CEO Rachel Johnson. "They turned down those job opportunities in our community because they couldn't find adequate housing."
APEX is a non-profit aimed at attracting, expanding, and retaining business in our region.
Its executive committee is made up of leaders of the region's largest employers. Employers tired of having nowhere for new employees to live.
"Employers are very frustrated and they're concerned about the future of their businesses," said Johnson. "They said we need APEX's help on this."
So APEX is launching something they say has never been done in this region. It's called the Northland Housing Partnership.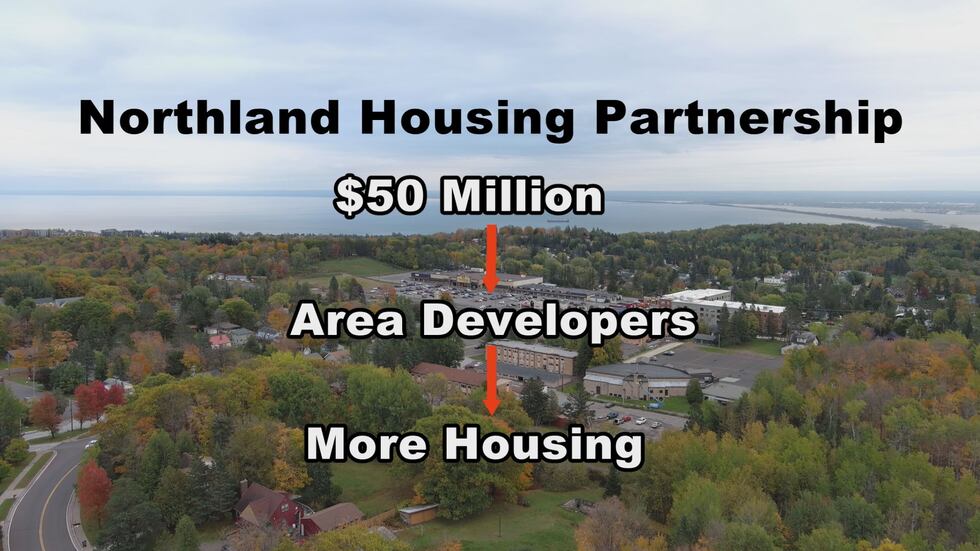 The goal -- create a pot of $50 million from area employers to get the ball rolling on new housing subdivisions.
"This fund will be used to lend money to a developer to allow them to pencil out their project," said Johnson.
Johnson says so far, there are six employers interested in committing to the fund.
Leaders at Essentia and St. Luke's confirmed to us they're involved in very early discussions of the partnership, which could spark new developments in areas like Rice Lake.
"The Kwik Trip property on the corner of Rice Lake and Martin Road, that's a great location for multi-family and single-family," said Johnson. "Across Martin Road is the Boomtown property. They're wanting to sell that property."
The possible partnership's are getting rave reviews from city leaders, who say the housing crisis will only be solved if everyone pitches in to help.
"I think it's awesome," said Ronchetti. "If we can work to solve the housing crisis, I think we have some really great things in store."
Solutions that would also be appreciated by young couples like Casey and Mary.
"More inventory would be huge," said Casey Cooper.
Fortunately, they landed a new home just before Lyla was born. Housing stress they hope their baby daughter won't someday experience herself.
"You just gotta learn to be patient," said Cooper. "Eventually the right house will come around, but in the thick of it it's very frustrating."
Click here to download the Northern News Now app or our Northern News Now First Alert weather app.
Copyright 2023 Northern News Now. All rights reserved.