Two UMD men's hockey players receive weekly honors after Michigan Tech Overtime game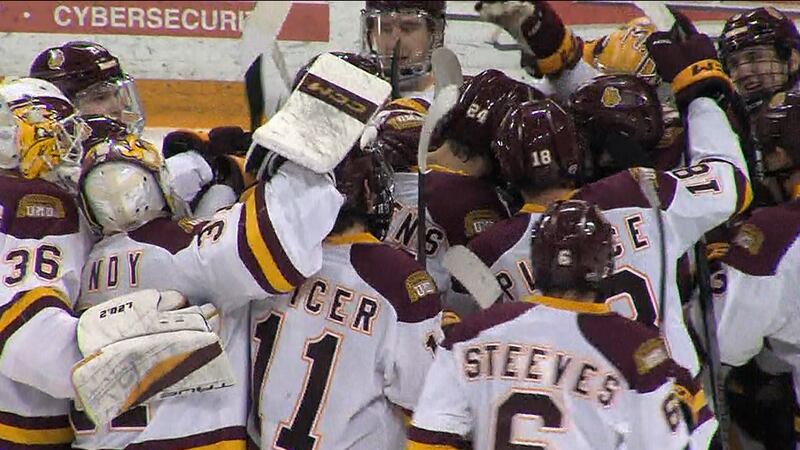 Published: Oct. 9, 2023 at 7:49 PM CDT
DULUTH, MN. (Northern News Now) - Over the week the University of Minnesota Duluth men's hockey team opened their season at Amsoil Arena against the Michigan Tech Huskies.
The exciting overtime match earned two players National Collegiate Hockey Conference weekly honors. Senior Zach Stejskal was named NCHC Goaltender of the Week and forward Anthony Menghini was named NCHC Rookie of the Week.
Stejskal made 32 saves Saturday night helping the Bulldogs force overtime. In the shootout Stejskal had two additional stops, giving UMD a win.
He posted a 0.941 save percentage, the best out of all NCHC goaltenders who saw regular season action last weekend. The last time Stejskal earned a goaltender of the week award was in the 2021-22 season.
For Menghini, it was his first game as a Bulldog but it didn't look that way as he scored his first collegiate goal to put the Bulldogs up 2-1 early in the third period. Mich. Tech would tie it up to go to overtime but The rookie would close out the game with a goal in the third round of the shootout.
Stejskal, Menghini, and company return to AMSOIL Arena for two more non-conference games against Northern Michigan on Friday, Oct. 13, and Saturday, Oct. 14 at 7:07 p.m.
Both games will be broadcast on the MY9 Sports Network.
Click here to download the Northern News Now app or our Northern News Now First Alert weather app.
Copyright 2023 Northern News Now. All rights reserved.