1 injured in train vs. logging truck crash in St. Louis County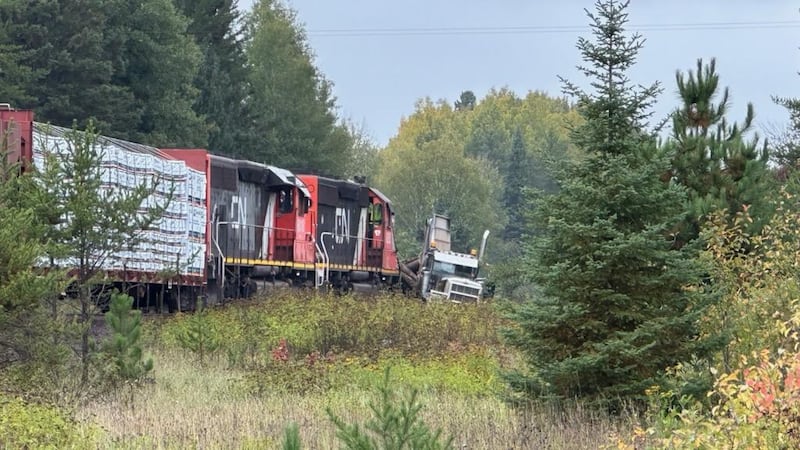 Published: Sep. 27, 2023 at 1:37 PM CDT
4:30 P.M. UPDATE -- More information has been released on the train vs. logging truck crash in rural St. Louis County.
According to the St. Louis County Sheriff's Office, it was reported that a logging truck was struck by a train in the 1800 block of Brimson Road in Ault Township.
Authorities say logs were all over the roadway and train tracks.
The driver of the semi was out of the vehicle.
When deputies arrived on scene, the driver of the semi, a 57-year-old Two Harbors man, had minor injuries.
First responders attended to his injuries and he was then transported by ambulance to a Duluth hospital.
Authorities say he had been wearing his seatbelt.
Two Canadian National (CN) employees were on the train at the time of the crash.
Both were not injured.
Authorities say the MN State Patrol Commercial Vehicle Inspectors were called to the scene along with the CN Police to investigate the crash.
It was stated that the train had two engines and three loaded cars.
However, there was no derailment and no hazardous material was spilled.
According to authorities, the crossing was a remote crossing on the Brimson Road which did contain stop signs on each side of the tracks.
BRIMSON, MN. (Northern News Now) - Authorities are cleaning up after a crash involving a train and logging truck in rural St. Louis County.
According to a St. Louis County Sheriff's Deputy on scene, they received a call about the crash around 11:50 a.m. Wednesday. It happened near Brimson, which is northwest of Two Harbors.
The deputy stated there were two people on the Canadian National train and one person in the logging truck.
The truck driver had minor injuries from the crash and was taken to the hospital. Authorities say the two people on the train were not hurt.
No one involved has been identified.
Authorities told our reporter on scene that crews are cleaning up logs that spilled on the road during the crash. They are asking drivers to consider a different route.
It is still unknown what led up to the crash.
This is a developing story. Check back for updates.
Click here to download the Northern News Now app or our Northern News Now First Alert weather app.
Copyright 2023 Northern News Now. All rights reserved.