Anti-abortion groups demand liberal Wisconsin prosecutors charge abortion providers despite ruling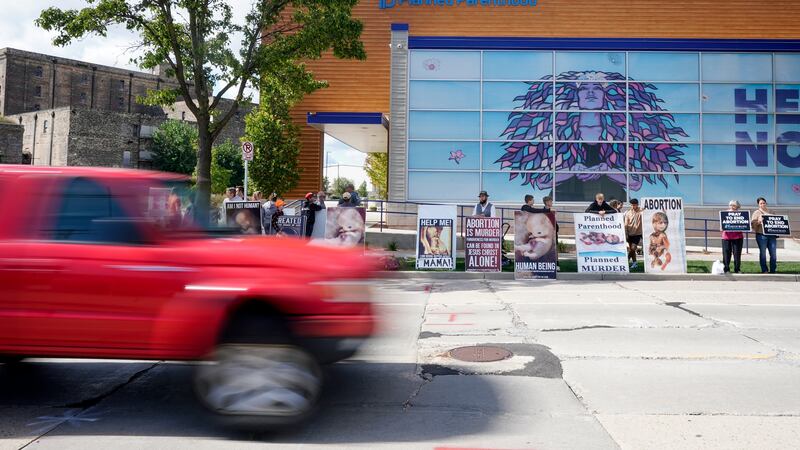 Published: Sep. 27, 2023 at 10:59 AM CDT
MADISON, Wis. (AP) — A coalition of anti-abortion organizations on Tuesday demanded that prosecutors in Wisconsin's two largest counties bring charges against abortion providers who have resumed practicing following a court ruling that consensual abortions are legal in the state.
Wisconsin Right to Life, Wisconsin Family Action and Pro-Life Wisconsin held a news conference in the state Capitol to call for Dane County District Attorney Ismael Ozanne and Milwaukee County District Attorney John Chisholm to prosecute abortion providers in their counties.
Ozanne and Chisholm, both Democrats, announced last year that they would permit abortions in their counties despite a 174-year-old state law that conservatives argue bans the procedure. Dane County Circuit Judge Diane Schlipper ruled this summer that consensual abortions are legal.
Galvanized by the ruling, Planned Parenthood of Wisconsin last week resumed abortions at clinics in Madison and Milwaukee after ceasing procedures last year following the U.S. Supreme Court's decision giving states the power to regulate abortion. The organization plans to resume services at its abortion clinic in Sheboygan as well, although there's no firm date reopening date yet.
Leaders of the anti-abortion groups argued at the news conference that Schlipper's ruling isn't final. They said the state law barring abortions remains in effect and Ozanne and Chisholm have a duty to enforce it because babies are dying.
"If district attorneys Ozanne and Chisholm do their job and ensure prosecution of abortionists in their counties is enforced, we will save lives," said Heather Weininger, executive director of Wisconsin Right to Life.
Ozanne said in an email to The Associated Press on Tuesday that his position hasn't changed. Chisholm didn't immediately respond to a message, but he almost certainly won't backtrack on an issue so fundamental to Democrats as abortion rights.
Planned Parenthood of Wisconsin's legal advocacy director, Michelle Velasquez, said that the organization follows the law and Wisconsin's statutes aren't applicable to abortion care.
"There is nothing to enforce," Velasquez said in a statement.
Wisconsin legislators passed a law in 1849 that conservatives argue bans abortion. The U.S. Supreme Court's 1973 Roe v. Wade decision essentially legalized abortion nationwide and nullified state abortion bans, including Wisconsin's.
But Wisconsin legislators never erased the 1849 ban from state law. Conservatives contend that the Supreme Court's decision in June 2022 to reverse Roe v. Wade and return the power to regulate abortions to the states effectively reactivated the prohibition.
Planned Parenthood of Wisconsin reacted to the Supreme Court ruling by ending abortions at its clinics in Madison, Milwaukee and Sheboygan, leaving women seeking such procedures to travel to other states. Ozanne and Chisholm said they wouldn't enforce the prohibition in their counties, but Sheboygan County District Attorney Joel Urmanski, a Republican, said he would indeed prosecute providers.
Democratic Attorney General Josh Kaul sued all three prosecutors last summer, seeking a ruling that the 1849 ban was too old to enforce. Schlipper ruled this past July that the statutes prohibit killing a fetus while assaulting the mother but do not ban consensual medical abortions.
Schlipper didn't block the ban from being enforced and has yet to issue a final order spelling out her position, leaving the door open for confusion and interpretation on behalf of anti-abortion groups and abortion-rights advocates. The case will likely end up before the state Supreme Court.
Click here to download the Northern News Now app or our Northern News Now First Alert weather app.
Copyright 2023 Northern News Now. All rights reserved.