Minnesota teen claims her spot on NBC's The Voice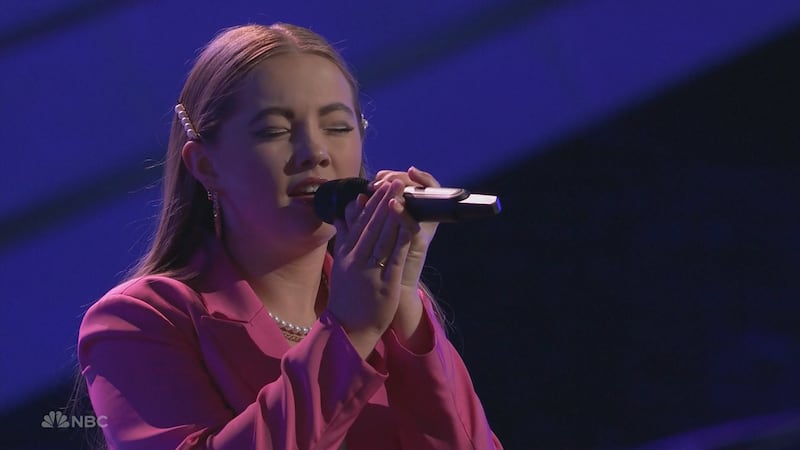 Published: Sep. 26, 2023 at 4:20 PM CDT
FARGO, N.D. (Valley News Live) - A Minnesota teenager has earned her place on the new season of NBC's The Voice. 16-year-old Joslynn Rose got three chairs to turn for her rendition of Duncan Lawrence's "Arcade." Gwen Stefani, Reba McEntire and Niall Horan all turned.
After a back-and-forth with the coaches, she chose to join Team Gwen, which she is hoping goes over well with her 8 sisters.
"I feel so excited. So ready, so encouraged and it's just so cool for my sisters to be able to see this," Joslynn said. "To see me doing this, I think is going to be so awesome. I'm so, so glad that I have this opportunity to share my share my heart and share my voice and my music with the world."
The Lake Benton, Minnesota, native has been homeschooled her entire life, but she says she has always loved music and is a skilled pianist. One of her most unique extra-curricular activities is her role as a magician's assistant. Joslynn has been working magic shows with local illusionist Max Fleet since she was 12-years old. Max incorporates music in every show, and Joslynn has even had a chance to sing at some of the performances.
Joslynn has eight sisters, three of which are foster children. Joslynn's parents have been fostering kids for the past 8 years, and have had more than 20 kids come through their home.
Things get a bit chaotic in a household of eleven people (including mom and dad) as laundry needs to be done three to four times a day, and transportation for the family is a twelve-passenger van. Joslynn says their current house isn't very big, but they are moving soon. The entire family shares one bathroom, and several of the kids share bedrooms.
Struggling with anxiety on and off in her life, music has been a lifeline for her. She is able to release her feelings and sort them out through singing. The Voice is the perfect opportunity for Joslynn to debut her talents.
"What excites me most about Gwen is just her energy and how ready she is to be herself. And I feel like that is just something that I can really look up to and learn a lot from. And just her encouragement is so, so appreciated," Joslynn said.
Joslynn and her family have loved the show since it came out, and she says it's a dream come true to sing on the iconic stage in front of a panel of celebrity coaches
Copyright 2023 KVLY. All rights reserved.