Mel Tucker's attorney: Michigan State doesn't have cause to fire suspended coach over phone sex
Mel Tucker's attorney says Michigan State does not have cause to fire its suspended football coach after Tucker acknowledged having phone sex with an activist and rape survivor because he did not "engage in unprofessional or unethical behavior" or violate his contract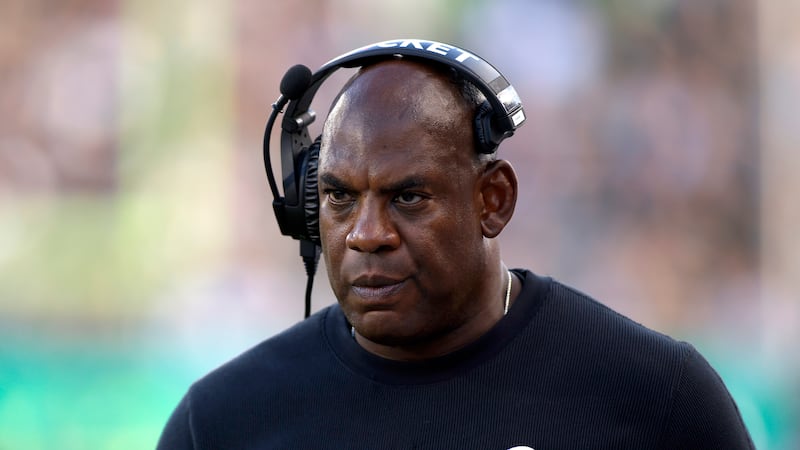 Published: Sep. 26, 2023 at 12:33 AM CDT
Mel Tucker's attorney said Monday that Michigan State does not have cause to fire its suspended football coach because Tucker did not "engage in unprofessional or unethical behavior" when he had phone sex with an activist and rape survivor who the university paid to speak to his team.
Brenda Tracy, the activist and survivor, said Tucker sexually harassed her during the phone call in April 2022. Several months later, Tracy filed a complaint with the school's Title IX office.
Tucker has acknowledged having phone sex with her but said it was consensual.
Michigan State's investigation was completed in July and the university informed Tucker last week it planned to fire him for misconduct.
Attorney Jennifer Belveal denied in a statement that Tucker's actions were acts of moral turpitude — "by any stretch of the imagination" — at the university that operates in the shadow of Larry Nassar's abuse of more than 100 athletes.
Belveal said the school previously knew Tucker acknowledged during the investigation in March that he had phone sex with Tracy.
"The notice, which is entirely premised on information you knew at least seven months ago, if not earlier, now affirms Tucker's belief that the investigation was never interested in the truth," she wrote.
Belveal also cited Tucker's "serious medical condition" in stating that the embattled coach reserves his right to fully respond to the university's planned firing when he's medically cleared.
Tucker asked for a medical leave for "a serious health condition" while he was suspended and the school denied the request, saying it was "unnecessary," according to his attorney.
"The fast track to termination following Tucker's assertion of rights under the FMLA is retaliatory," she wrote.
The school told Tucker he would be fired for cause and without compensation for misconduct with Tracy, who it considers a vendor because she was once paid to speak with the team, and gave him seven days to respond.
Michigan State spokeswoman Emily Guerrant said Monday the school will review Tucker's response.
Tucker signed a $95 million, 10-year contract in November 2021. If the school gets its way, he will lose about $80 million he was due to make through Jan. 15, 2032.
"I can only conclude that there is an ulterior motive designed to terminate my contract based on some other factor such as a desire to avoid any (Nassar) taint, or my race or gender," Tucker, who is Black, said in a response his attorney shared two weeks ago.
A hearing is scheduled for the week of Oct. 5 to determine if Tucker violated the school's sexual harassment and exploitation policy and a ruling could take up to 60 days.
Tracy's allegations were made public by USA Today earlier this month and on the same day that the report was published, Tucker was suspended.
Michigan State has hired a law firm to look into the source of a leak that led to Tracy's identity being revealed.
"It is the university's failure to maintain the confidentiality of the investigation, combined with Ms. Tracy's public disclosure of the entire 1200-page investigation that has cast the University in a negative light," Belveal wrote. "Tucker is just the fall guy for the university's negligence and misfeasance, the long history of which includes and predates the Nassar matter, but which unfortunately has continued and tainted the University's handling of this matter."
The 51-year-old Tucker, who said he has been estranged from his wife for years and has two children, said the allegations against him are "completely false."
The school, however, said the actions Tucker acknowledged were unprofessional and unethical.
"It is not unprofessional or unethical to engage in intimate acts, off duty, with another adult, just because that adult provided services one time to the university," Belveal wrote.
Michigan State told Tucker that he was fired for "breaches" in his contract and for engaging "in any conduct which constitutes moral turpitude or which, in the university's sole judgement, would tend to bring public disrespect, contempt or ridicule upon the university."
Belveal wrote that the university's notice "adopts the allegations of Brenda Tracy without any meaningful review of the facts."
"First, Tucker did not breach the agreement in any capacity, much less a material one. He did not engage in unprofessional or unethical behavior or 'moral turpitude' by any stretch of the imagination," Belveal wrote. "In fact ... assault and battery does not even constitute 'moral turpitude,' and the flimsy foundation of the university's finding — a private relationship involving mutual flirting and one instance of consensual phone sex — falls far short of the mark."
Tracy is known for her work with college teams educating athletes about sexual violence. Michigan State paid her $10,000 to share her story with the football team.
Tucker began his coaching career with Nick Saban as a graduate assistant for the Spartans in 1997. He returned to the school with one of the biggest contracts in college sports after leading Colorado for one season and serving as an assistant coach at Georgia, Alabama and Ohio State.
Tucker also worked in the NFL, leading the Jacksonville Jaguars as interim coach during the 2011 season.
The Spartans (2-2, 0-1 Big Ten) have lost their last two games without Tucker at home by a combined score of 72-16 against then-No. 8 Washington and Maryland.
Michigan State plays at Iowa (3-1, 0-1) on Saturday.
___
AP college football: https://apnews.com/hub/college-football and https://apnews.com/hub/ap-top-25-college-football-poll