Jordan Love rallies Packers to 18-17 win after Saints lose Derek Carr to shoulder injury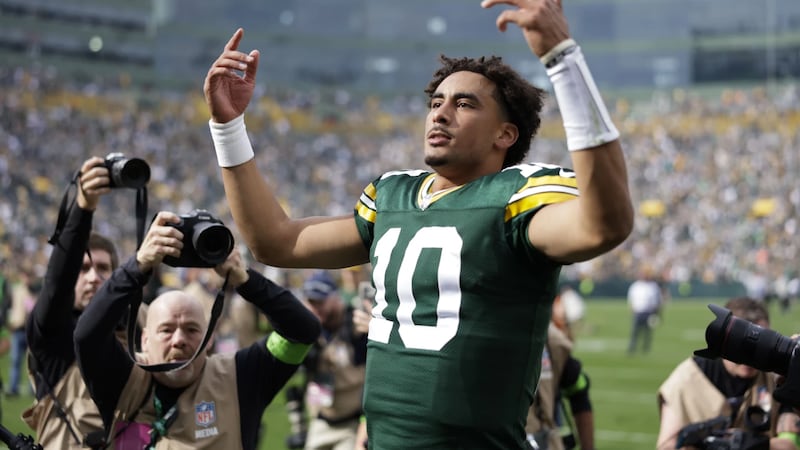 Published: Sep. 24, 2023 at 10:49 PM CDT
GREEN BAY, Wis. (AP) — Jordan Love celebrated his first career start at Lambeau Field by producing the type of comeback his four-time MVP predecessor orchestrated so often.
Love rallied Green Bay from a 17-point fourth-quarter deficit after New Orleans lost quarterback Derek Carr to a shoulder injury, and the Packers stunned New Orleans 18-17 on Sunday.
"It's always about how the game ends," said Love, who went 22 of 44 for 259 yards with one touchdown pass, a TD run and an interception. "It felt great at the end. That's all I can say."
This was Love's fourth start overall and first at home. The 2020 first-round pick spent the last three seasons backing up Aaron Rodgers, who's now with the New York Jets and is out for the season with a torn Achilles tendon.
The Packers (2-1) scored 18 points in the final 11 minutes to win their 11th consecutive home opener, the NFL's longest active streak. They took the lead on Love's 8-yard pass to Romeo Doubs in the right corner of the end zone with 2:56 left.
Love's teammates said he maintained his composure even when the Packers were scoreless heading into the final period.
"If you look at the cameras, just watching him in the huddle, pre-snap or what not, his poise is amazing," Doubs said. "And that's one trait that I continue to emphasize on him because any other quarterback in that situation would lose his mind."
New Orleans nearly retook the lead.
Carr's backup, Jameis Winston, threw a couple of completions to Chris Olave that drove the Saints (2-1) into scoring position before Blake Grupe's 46-yard field-goal attempt sailed wide right with 1:05 left. It was the first career miss in seven attempts for Grupe, a rookie who played in college at Arkansas State and Notre Dame.
"One day you're the hero, the next day you're the villain," Grupe said. "I put together a good preseason and we got a good start to the season. The guys did their job today, and I've got to be better."
Green Bay became the third team in the past 30 years to win after being shut out 17-0 or worse through three quarters. The others were Carolina against Philadelphia on Oct. 21, 2018, and Tennessee against the New York Giants on Nov. 26, 2006.
The Packers were missing five key contributors: cornerback Jaire Alexander (back), running back Aaron Jones (hamstring), wide receiver Christian Watson (hamstring), left tackle David Bakhtiari (knee) and left guard Elgton Jenkins (knee). Bakhtiari and Jones were missing their second straight games, while Watson has yet to play this season.
"I've never been a part of a win like this," Packers coach Matt LaFleur said. "The guys in the locker room, they believe. They believe in one another. And they continued to battle."
New Orleans led 17-0 when Carr left with a shoulder injury in the third quarter after getting hit on one of Rashan Gary's three sacks.
"They're doing an evaluation," Saints coach Dennis Allen said after the game. "I think it's X-rays."
At first, it didn't appear the Packers would capitalize.
On the opening play of the fourth quarter, Love couldn't connect with Patrick Taylor on a fourth-and-2 pass from the Saints 13-yard line. The Packers still trailed 17-0 and had wasted numerous trips into Saints territory.
"Nobody batted an eye," Love said. "Nobody flinched. We knew there was still time left and still opportunity."
Love then sparked a rally against a secondary missing injured cornerback Paulson Adebo and suspended safety Marcus Maye.
Anders Carlson's 38-yard field goal with 11 minutes left began Green Bay's comeback.
On the Packers' next possession, Love faked a handoff to Taylor on a read option before making a move past Demario Davis and reaching the end zone on fourth-and-goal from the 1. Love connected with Samori Toure on a 2-point conversion to make it 17-11 with 6:58 remaining.
The Packers forced a three-and-out and took over at their 20 with 5:23 left. A 24-yard scramble by Love and a 30-yard diving catch by Jayden Reed set up the go-ahead touchdown.
New Orleans took its big lead by scoring touchdowns on Carr's 8-yard pass to Jimmy Graham and Rashid Shaheed's 76-yard punt return. Grupe's 25-yard field goal in the closing seconds of the first half made it 17-0.
"Losses like this hurt worse than when you get beat by 30, because when you get beat by 30, you're never in control of the game," Saints safety Tyrann Mathieu said. "When we lose a close game like that, a game you feel like you were in control of for the most part, it's frustrating, it's humbling, but that's why people love the NFL."
INJURIES
Saints RG Cesar Ruiz left with a concussion in the first half.
Packers LB De'Vondre Campbell (ankle) and CB Carrington Valentine (biceps) left the game. Valentine, a rookie seventh-round pick from Kentucky, was making his first career start. OT Zach Tom hurt his knee late in the game.
UP NEXT
Saints: Host Tampa Bay next Sunday.
Packers: Host Detroit on Thursday night.
Click here to download the Northern News Now app or our Northern News Now First Alert weather app.
Copyright 2023 Northern News Now. All rights reserved.