Wisconsin Republican leader asks former state Supreme Court justices to review impeachment
Wisconsin's Republican Assembly leader says he's created a panel to investigate the criteria for impeachment against a liberal state Supreme Court justice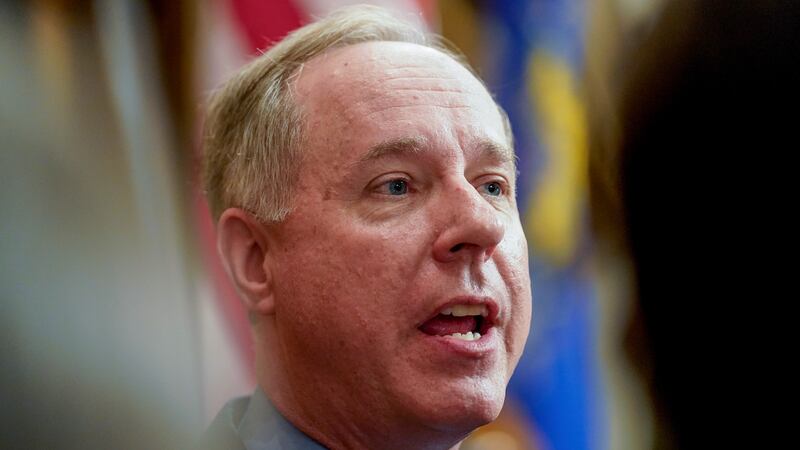 Published: Sep. 13, 2023 at 11:10 AM CDT
MADISON, Wis. (AP) — Wisconsin's Republican Assembly leader announced Wednesday that he's created a panel to investigate the criteria for impeachment as he mulls taking that unprecedented step against a liberal state Supreme Court justice.
Republicans are targeting Justice Janet Protasiewicz over comments she made during her winning campaign about redistricting and nearly $10 million in donations she received from the state Democratic Party.
The impeachment criteria panel being created by Assembly Speaker Robin Vos will consist of three former Wisconsin Supreme Court justices whom Vos told The Associated Press he would not name until after their work is done. Vos said they were not being paid and he expected their work to be complete in the "next few weeks."
The move to further investigate possible impeachment against Protasiewicz comes the day after Vos and Republicans introduced a bill, modeled after the law in Iowa, where new maps would be drawn by nonpartisan legislative staff and be approved by the GOP-controlled Legislature for 2024.
But Gov. Tony Evers said he would veto the plan and advocates criticized it because it gives the Legislature the ability to draw maps if those created by the nonpartisan staff are rejected two times.
Vos said on WISN-AM, where he announced the formation of the impeachment review panel, that he was trying to provide an "off-ramp" to impeachment.
"That is my last option," Vos said of the possible impeachment. "They're making it seem like I'm foaming at the mouth to have an impeachment process. But that is the last thing I want to have happen which is why we have taken what I would say is a pretty radical step to offer a different path."
Protasiewicz joined the court on Aug. 1, flipping majority control of the Wisconsin Supreme Court from conservative to liberal for the first time in 15 years.
Republicans have called on Protasiewicz to recuse herself from a pair of Democratic-backed redistricting lawsuits seeking to overturn GOP-drawn maps. Republicans argue that she can't fairly hear the cases because she called the current maps "unfair" and "rigged" during the campaign and accepted nearly $10 million from the Wisconsin Democratic Party.
She has yet to decide on recusal in those cases. But she did recuse from another lawsuit filed this week asking the Wisconsin Supreme Court to block any attempts by the Legislature to impeach Protasiewicz. It is up to each justice to decide whether to recuse from a case.
The state's judicial code prohibits justices and judicial candidates from making promises or commitments to ruling a certain way on any issue, and Protasiewicz adhered to that during her campaign. Earlier this year, the state commission that investigates complaints against judges dismissed ones it had received related to her comments on redistricting.
All but one justice on the Supreme Court has accepted money from political parties and has been outspoken on hot-button issues before winning an election.
Vos said it was his "constitutional duty" to look into impeachment. He told the AP that former Wisconsin Supreme Court Justice Michael Gableman, who Vos hired to lead an investigation into the 2020 election and then called an "embarrassment" and fired, would not be one of them.
Dan Kelly, a former justice whom Protasiewicz defeated in April, told the AP that he was not on the panel either.
That leaves just five living former justices from Vos to pick from. Former conservative Justice Patience Roggensack, whose retirement created the vacancy Protasiewicz filled, did not return a message asking if she was on the panel.
"I don't want to make this into a public spectacle," Vos said on WISN when explaining why he was keeping the names of the justices secret. "The idea is I want them to do the research, come back to us with what it is actually going to be. They're not going to be lobbied, that's not the goal."
Impeachment is permitted under the Wisconsin Constitution only for corrupt conduct in office or for the commission of a crime. It takes a simple majority in the Assembly to impeach and a two-thirds majority in the Senate to convict.
Republicans hold a 64-35 majority in the Assembly and a two-thirds 22-11 majority in the Senate. They built those large majorities on the maps they drew in 2011, viewed as among the most gerrymandered in the country, which have been upheld by the state Supreme Court when it was controlled by conservatives.
If the Assembly impeached her, Protasiewicz would be barred from any duties as a justice until the Senate acted. That could effectively stop her from voting on redistricting without removing her from office and creating a vacancy that Democratic Gov. Tony Evers would fill.
If she is convicted by the Senate or resigns, and there is a vacancy before Dec. 1, that would trigger an April election to fill out the remainder of her 10-year term. Protasiewicz won the election in April by 11 points.