Local experts weigh in on depression rates in Duluth
Published: Sep. 7, 2022 at 6:32 PM CDT
DULUTH, MN -- A new infographic making its way around social media suggests Duluth has the ninth highest rate of depression in the U.S., but some local experts suggest taking the graphic with a grain of salt.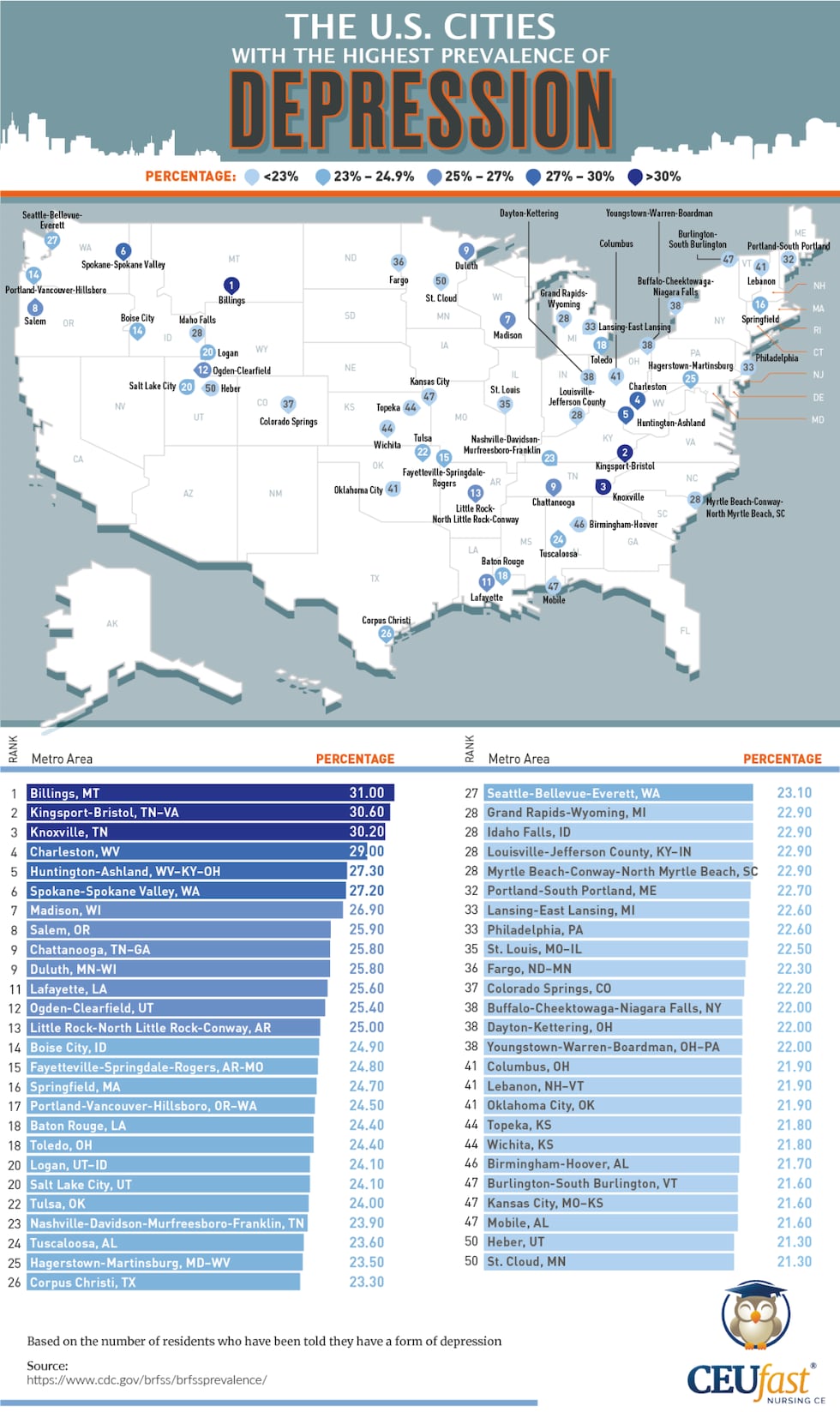 This graphic, shared by a group called CEUfast, compiles data from the CDC to draw conclusions about depression rates across the U.S.
"Somebody had really dug into some CDC data and cobbled it together in a way that the study was never designed for," said Essentia's Dr. Steven Sutherland.
Sutherland believes conversations surrounding mental health are important to help protect the well-being of ourselves and those around us.
"We want to limit suffering in anybody; if it's our loved ones, or friends or co-workers, whoever it is," he said.
As for depression rates in Duluth, experts like Dr. Bob Lloyd at UMD say several factors might make communities like Duluth more prone to seasonal depression.
"In the winter, people tend to hold up in their cabins they don't exercise as much. And so you don't get the antidepressant effect of exercise," said Lloyd.
Shorter days during the winter also result in less sunlight.
Lloyd said depression directly impacts the brain's hippocampus, and things like exercise and social interaction can help mitigate some symptoms.
"Things like Tai Chi, vitamin D, supplementation, socialization... are all simple things that you can do," he said.
If you or someone you know begin to experience symptoms of depression, Lloyd encourages them to address it, rather than ignore it.
"The most important thing to know if you think you're getting depressed, don't wait to seek help," he said.
If you or a loved one is experiencing a mental health crisis, you can call the new 988 crisis line to connect with a local mental health provider.
Copyright 2022 KBJR. All rights reserved.