City by City: Duluth, Ashland, Washburn County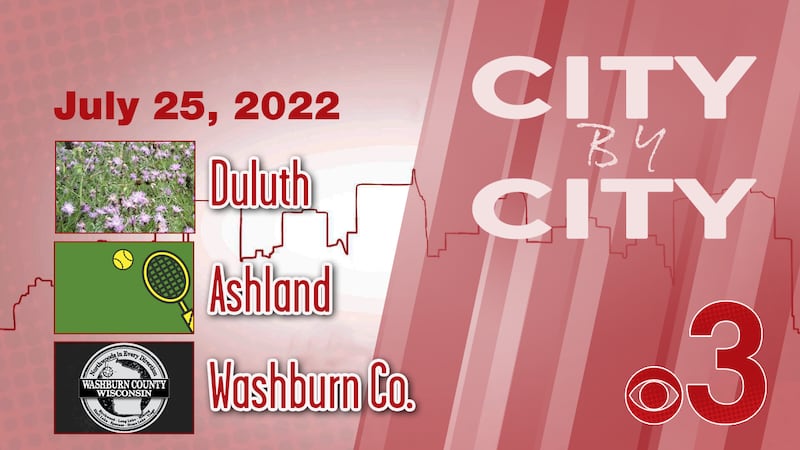 Published: Jul. 25, 2022 at 5:59 PM CDT
Duluth, MN- The DNR is looking for volunteers to help pull invasive species. The cleanup will be held at Minnesota Point Pine Forest. Minnesota Scientific and Natural Areas staff will be on hand to instruct volunteers on how to identify and remove spotted knapweed. Volunteers are asked to bring gloves and wear appropriate footwear. Advanced registration is required and the pull will be held Sunday, July 31.
Ashland, WI- A local athletic space will be closed for the week. Starting July 25, the Central Railyard Park Tennis Courts will be closed through Friday, July 29, as they are being resurfaced. The Ashland Parks and Recreation Tennis lessons will be held at the Ashland School District Courts this week.
Washburn County, WI- The annual Washburn County Photo Contest is underway! Photos will be used on the website, in publications and for future marketing. The possibilities are endless as the only two requirements are that you yourself must've taken the photo and it been taken in Washburn County. It can include people or be just a nature picture. There will be prizes for first, second and third place. The Washburn County Tourism Association is taking submissions through August 31.
Tips: If there's something going on in your neighborhood that you think we should know about send us an email, to newstips@cbs3duluth.com, and it might be featured as we go around the Northland City by City.
Previous Day: City by City: Hibbing, Ely, Duluth
Copyright 2022 CBS 3 Duluth. All rights reserved.