Larson proclaims Friday "Essential Workers Day" in Duluth
Published: Nov. 19, 2021 at 1:54 PM CST
DULUTH, MN. (KBJR) -Friday, November 19 is Essential Workers Day in the city of Duluth.
Duluth's Mayor Emily Larson signed a proclamation ahead of the 63rd annual Christmas City of the North Parade, put on by KBJR-TV.
This year the parade will be dedicated to all essential workers who have made a difference across the Northland throughout the pandemic.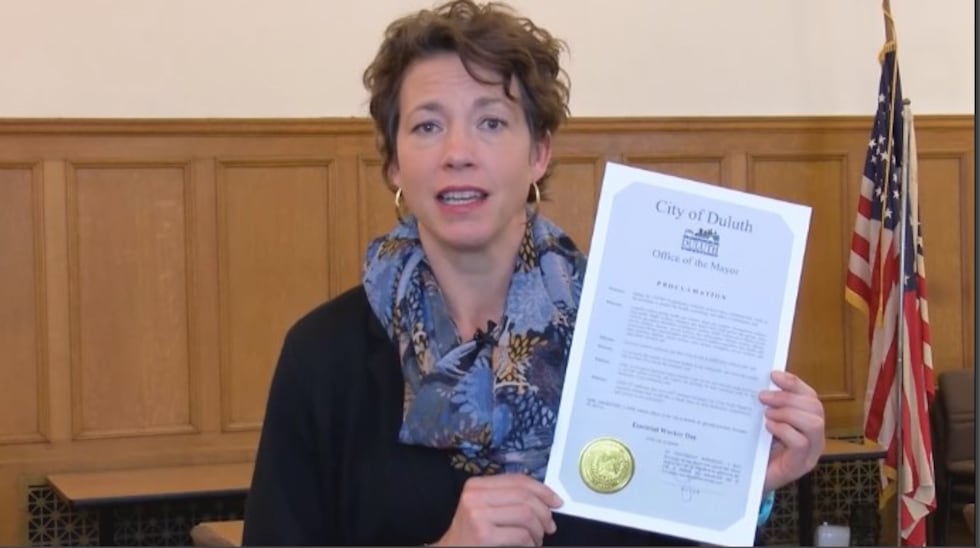 The proclamation reads...
Whereas, during the COVID-19 pandemic, essential workers have continued their work on the frontlines to protect the health, well-being, and safety of Duluthians; and,
Whereas, essential workers include health care workers, direct care workers, nursing home workers, local public health workers, educators and school staff, foodservice and grocery store workers, gas station attendants, construction workers, utility workers, post officers, social service workers, delivery service workers, law enforcement officers, security officers, corrections officers, manufacturers who converted to making respirators, face shields, and hand sanitizers, janitors, transit workers, truck drivers, emergency service workers, and other public servants; and,
Whereas, essential workers selflessly put their lives at risk to fulfill their critical jobs; and
Whereas, we recognize the number of essential workers in our community, and across the country who lost their lives during the pandemic;
Whereas, today we recognize and honor each essential worker in our area who have made sacrifices to provide critical services, and express our gratitude for their continued work for the betterment of our community; and,
Whereas KBJR-TV dedicates this year's 63rd Annual Christmas City of the North Parade to essential workers and would like to thank them for their dedication, commitment, and service to our community,
Whereas, I Duluth Mayor Emily Larson hereby proclaim Friday, November 19 as Essential Worker Day in the City of Duluth.
Over the last two weeks, people have submitted nominations of essential workers to walk in the parade as a part of the grand marshal group.
That group will lead the parade Friday night.
It is comprised of healthcare workers, grocery store workers, teachers, religious leaders and much more!
You can tune into the 63rd annual Christmas City of the North Parade Friday starting at 6:30 P.M. on KBJR 6.
You can also tune in to the live stream of the parade here.
Copyright 2021 KBJR. All rights reserved.